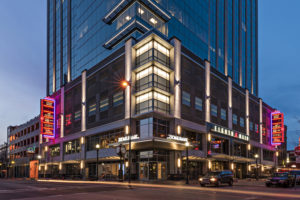 As part of American Institute of Architects (AIA) Winston-Salem's Lunch & Learn series, Tubelite presents "Storefront or Curtainwall: Seeing through the Difference," Oct. 22, 12-1 p.m., at Footnote Coffee & Cocktails, 634 West 4th St., Suite 120, Winston-Salem, NC 27101.
Those who participate in this one-hour, in-person educational presentation can earn 1.0 Learning Unit (LU). The course includes a basic review of storefront and curtain wall glazing systems. The program will examine industry standards and performance attributes for commercial glazing systems, enabling the design professional to select the appropriate product for their next product. Course participants will have a basic understanding of storefront and curtain wall, seeing through the difference and determining the proper product application based on system performance attributes and installation in terms of environmental quality, human health and safety.
RSVP to President@AIAWinstonSalem.org to attend. If you are not an AIA member, cost of attendance is $15. Please bring exact change.
###