Integrates with storefront using a flush glaze adaptor.
Adjustable hardware.
Handle finishes in Silver, White and Black.
Can be integrated in all Tubelite curtain wall systems
Open-in (Hopper & Casement) and Open-out (Awning & Casement) window options
Polyamide thermal break provides u-factor of 0.37 (Dual Glazed) and permits two-color interior/exterior finishes
2 3/4" (69.85mm)  System Depth – Dual IGU
Open-out Casement/Awning Windows have CAM handles.
Open-out Casement/Awning Windows with optional Custodial Lock have Roto-operator/Multi-point locking hardware.
Open-out Awning Windows with optional ADA Handle have Roto-operator/Multi-point locking hardware.
Open-in Hopper/Casement Windows with optional Custodial Lock have a central seal and multi-point locking hardware.
Factory-fabricated only for 2-year std warranty (can be extended to 5-year)
Let fresh air into the building using natural ventilation with Tubelite's new UniVent 1375AW Series Windows. These operable windows are engineered to complement and seamlessly integrate within mid- to high-rise commercial buildings' storefront and curtainwall systems
These architectural rated windows have a frame depth of 2-3/4″ (70mm) for dual glazed IGU's with mitered/sealed corners and crimped on an "L" shaped clip. Dimensions span up to 72 by 36 inches (1828.8mm x 914.4mm) for hoppers, and up to 36 by 62 (914.4mm x 1574.8mm) inches for casements.
UniVent 1375AW Series Windows are tested to meet AW Architectural Performance Class, the most stringent performance and durability requirements of North American Fenestration Standard /Specification for windows, doors, and skylights (NAFS-17) plus the AAMA/WDMA/CSA 101/I.S.2/A440-19 Canadian supplement. This industry standard includes high-performance criteria for air, water and structural integrity, lifecycle testing to 4,000 operating cycles.
These aluminum-framed windows are thermally broken and insulated with polyamide strut, providing a U-factor of 0.37 with dual-glazed IGUs, per NFRC 102-2020. A frame condensation resistance factor (CRFf) of 72 per AAMA 1503-09 also can be achieved further contributing to high-performance, energy-efficient building envelopes.
Screens may be ordered and finished to match the window frame. The aluminum framing is available in high-performance standard anodized or paint finishes. Specialty finishes, custom colors and dual finishes also may be specified.
EXAMPLES >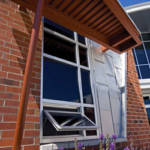 Calvary Church
Naperville, IL
Rossman Elementary
Cheyenne, WY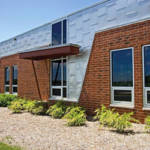 Calvary Church
Naperville, IL
Univent 1375AW Insert Vent

Awning

Casement

Hopper

Casement

Application
Project Out
Project Out
Project In
Project In
Frame Joints
Mitered, 2 Corner Keys
Window Joints
Mitered, 2 Corner Keys
Glass Thickness
1" (25.4mm), 1 1/16" (27mm)
Face Width
3-1/16″ (78mm)
 3-1/16″ (78mm)
2-7/16″ (62mm)
 3-3/16″ (80mm)
Frame Depth
2-3/4″ (70mm)
2-7/16″ (62mm)
2-7/16″ (62mm)
2-3/4″ (70mm)
Hardware
4-bar hinges, Cam Lock or optional roto operator
with Multi-point lock or optional custodial lock with removable handle
Butt hinges, Cam lock, optional roto operator with Multi-point lock handle or optional custodial lock with removable handle, optional egress lock with opening restrictor
4-Bar hinges, Multi point lock handle, optional custodial lock with removable handle
4-Bar hinge or concealed
Euro Hinge with Multi point lock handle, optional custodial lock with removable handle. Optional Egress with
opening restrictor
ASTM E331 AND E547
Uniform and Cyclic
Static Water
15 PSF (720Pa)
U-Factor**
0.37
0.37
Air Infiltration and
Exfiltration @300Pa
0.02 cfm/ft²
0.04 cfm/ft²
0.09 cfm/ft²
0.06 cfm/ft²
0.09 cfm/ft²
0.09 cfm/ft²
0.06 cfm/ft²
0.06 cfm/ft²
NAFS (AAMA/WDMA/CSA 101 I.5.2/A440-17)
AW PG80*
AW PG80*
AW PG80
AW PG80
AAMA910 Life Cycle Tested
4000 Cycles
CRF (AAMA 1503-2010)
Dual: 69
Dual: 62
Acoustic
1" : 35 STC / 29 OITC; 1 1/16" : 39 STC / 34 OITC;
1 3/4" : 36 STC / 29 OITC
1" : 36 STC / 30 OITC; 1 1/16" : 39 STC / 33 OITC;
1 3/4" : 36 STC / 29 OITC
Forced Entry (ASTM F588)
Grade 40
Univent 1375AW Insert Vent

Awning

Application
Project Out
Frame Joints
Mitered, 2 Corner Keys
Window Joints
Mitered, 2 Corner Keys
Glass Thickness
1" (25.4mm), 1 1/16" (27mm), 1 ¾ (44.5mm)
Face Width
2-3/4″ (70mm) Dual
Frame Depth

2-3/4″ (70mm) Dual

Hardware
4-bar hinges, Cam lock
ASTM E331 AND E547 Uniform
and Cyclic Static Water
15 PSF (720pa)
U-Factor**

0.37

Air Infiltration and
Exfiltration @300pa
0.02 cfm/ft²
0.04 cfm/ft²
AAMA/WDMA/CSA 101
I.5.2/A440-17, NAFS Testing
AW PG60 (with other Locks)
AW PG60 (with Cam Lock)
AAMA910 Life Cycle Tested
4000 Cycles
CRF (AAMA 1503-2010)
Dual: 69
Acoustic:
1" 35 STC/29 OITC, 1 1/16" 39 STC/34 OITC
1 3/4" 36 STC/29 OITC
ASTM F588
Grade 40
Forced Entry
*AW PG60 (with Cam Lock) **U-Factor per NFRC 100