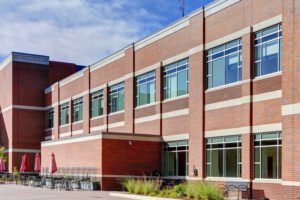 UCHealth's Poudre Valley Hospital in Fort Collins, Colorado, expanded its patient services with the renovation and addition of its emergency room (ER) department. The 185,000-square-foot, three-story ER features Tubelite Inc.'s storefront, curtainwall and entrance systems to create the welcoming exterior and the comfortable, daylit interior.
Originally built in 1925, the original hospital had been renovated and expanded many times. The former ER space was built to treat 25,000 patients per year, but in 2016, approximately 53,000 patients were cared for there. The new ER can accommodate future growth of the community and can care for up to 100,000 patients annually.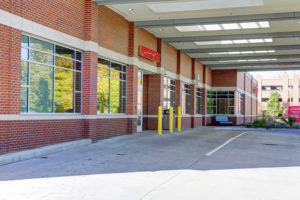 At 55,543 square feet, the new ER is more than three times the size of the hospital's former emergency space and offers up to 64 beds. The new facility also features a clinical laboratory, a retail pharmacy, a rooftop helipad and an orthopedics unit. UCHealth noted that the new orthopedic unit, on the second floor, "has large rooms with natural light and a rehabilitation gym that gives patients an area to improve their mobility and health without the feel of being in a hospital."
Inviting the natural light and framing the views, Commercial Glass, Inc. installed Tubelite Inc.'s 400 Series curtainwall and T14000 I/O Series storefront. For the entrances, Tubelite's Wide Stile Doors, with 5-inch-wide stiles and 10-inch bottom rails, were selected for the heavy-use likely to be experienced in the hospital's ER.
Enhancing the dependable reputation of Tubelite's architectural aluminum products, Linetec finished all of the materials for Poudre Valley Hospital's ER in Class I clear anodize. The resulting finish withstands continuous use, cleans easily and requires minimal maintenance. In addition, Linetec provided thermal improvement services to minimize temperature transfer and insulate the exterior surfaces from the interior.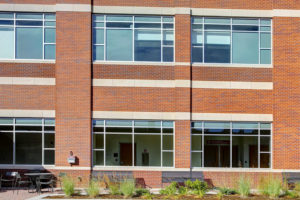 "Our thermally improved storefront systems achieve the specified thermal performance and contribute to condensation resistance, which also minimize the potential for mold and mildew," said Mary Avery, Tubelite's vice president of marketing. "These combined attributes support the hospital's energy savings goals, as well as provide a healthy, comfortable, open space for patients and other people to enjoy."
General contractor Hensel Phelps described the $59.5 million project as "shoe-horned in the northeast corner of the campus and tied into the existing hospital at a number of locations." The project is part of a larger $100 million expansion that included new and renovated neonatal intensive care units.
"Because the existing hospital underwent a series of additions over its lifespan, the aggregated structure has multiple levels with differing floor elevations and differing floor-to-floor heights resulting in a challenging design to connect the existing building to the new addition," explained Hensel Phelps.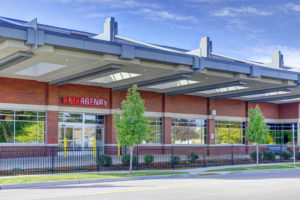 In collaboration with architects at H+L Architecture (now TreanorHL) the project team used integrated project delivery principles, virtual design and construction, as well as laser scanning to coordinate the existing conditions with the new design. Working together, the project was completed in 19 months and opened in Feb. 2017.
The new emergency department at Poudre Valley Hospital is part of a 270-bed regional medical center offering a wide array of treatments, surgeries and diagnostic tests in more than three dozen medical specialties. This medical center specializes in orthopedic surgery, neuroscience, cancer, bariatric weight-loss surgery, and women and family services for residents of northern Colorado, southern Wyoming and western Nebraska. Its team of more than 2,000 health care professionals delivers personal and skilled care that uses the latest medical technologies.
Kevin Unger, CEO and president of Poudre Valley Hospital and Medical Center of the Rockies, said he is delighted by the design of the new emergency department addition. "The all-private, state-of-the-art rooms designed around pods can be opened and closed depending on patient volume. The waiting room is very small because we want all patients to see a provider immediately after entering the facility, and I also love that the helicopter pad is on the roof above the new emergency department."
Poudre Valley Hospital, Emergency Room addition, 1024 S. Lemay Ave., Fort Collins, CO 80524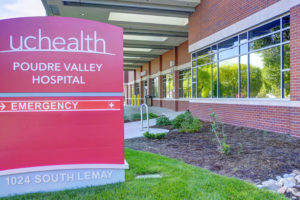 * Owner: UCHealth; Denver; https://www.uchealth.org
* Architect: H+L Architecture (now TreanorHL); Denver; https://www.treanorhl.com
* General contractor: Hensel Phelps; Greeley, Colorado; https://www.henselphelps.com
* Glazing contractor: Commercial Glass, Inc.; Loveland, Colorado; http://www.commercial-glass.com
* Glazing system – storefront, curtainwall and entrance systems manufacturer: Tubelite Inc.; Walker, Michigan; https://tubeliteusa.com
* Glazing system – storefront, curtainwall and entrance systems finishing: Linetec; Wausau, Wisconsin; https://linetec.com
* Photographer: Matt Puckett Photography
About Tubelite Inc.
For more than 70 years, glazing contractors have counted on Tubelite's dependable service, fabrication and distribution of architectural aluminum products. Part of Apogee Enterprises, Inc., the company is an industry leader in eco-efficient storefront, curtainwall and entrance systems, and recognized for its fast, reliable and consistent delivery.
Tubelite's corporate office, fabrication, warehouse and shipping operations are located in Walker, Michigan. Its Dallas location provides additional fabrication, warehouse and shipping operations. Its facility in Reed City, Michigan, houses the company's aluminum extrusion operation. The company also has an office in Warwick, Rhode Island.
Tubelite and its staff are members of the American Architectural Manufacturers Association (AAMA), the American Institute of Architects (AIA), the Construction Specifications Institute (CSI), the National Fenestration Rating Council (NFRC), the National Glass Association/Glass Association of North America (NGA/GANA), the Society of Military Engineers (SAME) and the U.S. Green Building Council (USGBC).
###