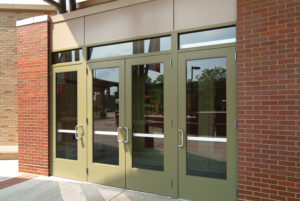 Tubelite's clients know that a door is one of the hardest-working elements of a building. It has to be engineered and manufactured for high durability. There are millions of aluminum entry doors installed across the country, with some having been in service since the 1950s.
Sharing some of the key success factors in dependable, aluminum entrance systems, Building Design+Construction interviewed Tubelite for "Considerations for door corner construction methods."
Click here to read this online feature answering the following frequently asked questions:
* Why is door corner construction important?
* What types of extruded aluminum door corner construction are available?
* Which is type of construction is the most durable?
* Does one type have any advantages over the others?
* Are there applicable performance standards?
Please contact us if we can answer any additional questions for you regarding aluminum entrance systems, and let us know how we help you select the most dependable products for your next project.
###