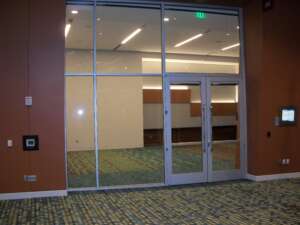 Tom Minnon, John Priebe and Walt Lutzke represented Tubelite Inc. at this year's event sponsored by the Construction Specification Institute. Attended by the country's leading architectural specifiers and product manufacturer's, the show was held at Music City Center in Nashville, TN.
The newly opened convention center also showcased Tubelite doors and storefront on the interior meeting rooms.Tubelite's display included TU24000 high performance thermal storefront framing, and previewed the E44000 impact resistant non-thermal storefront framing system. Tom Minnon's presentation on "Daylighting and Integrated Façade Design" was well received during Friday's CONSTRUCT Learning Pavillion.
Baltimore, MD is host city for next year's show, and we are looking forward to exhibiting there.