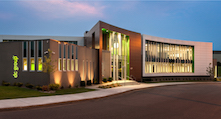 DC Group's "expand in place," 44,000-square-foot, two-story, $7.3 million office industrial project in North Minneapolis features a contemporary design by UrbanWorks Architecture. To reflect the high-tech business' brand, UrbanWorks blended DC Group's new and existing structures using glass, metal and concrete. Helping achieve the aesthetic, performance and economic criteria for the project, Tubelite Inc. provided its 400CW Series curtainwall system.
DC Group provides equipment and maintains uninterruptible power supply (UPS) systems for large corporate customers, including AT&T, Kaiser Permanente, Verizon, Microsoft and Oracle, among other Fortune 500 companies. The equipment protects computer systems from power surges and transfers them to standby power sources in case of a blackout or brownout.
Experiencing significant growth in the past several years, DC Group grew from 41 employees to 140 employees. Since 2006, the company's revenue has risen from approximately $5 million to $28 million annually. The company's space and public presence also needed to grow. Its 14,000-square-foot building was constructed in 1978. A phased construction plan with Greiner Construction began in July 2013 to add 30,000 square feet.
"While their former facility was almost invisible in its typical mid-80's commercial-industrial plainness, the expanded facility, with its visible branding and exterior lighting design, presents as a gateway to West River Road," described UrbanWorks Architecture.
Working under the guidance of UrbanWorks Architecture and Greiner Construction, Brin Contract Glazing installed Tubelite's 400 Series curtainwall, T14000 I/O storefront and E4500 storefront aluminum framing systems. Tubelite's Medium Stile thermal doors with 10-inch bottom rails also were installed. Interior framing and doors by Tubelite were used for the vestibule, executive offices and large conference room. Linetec finished the framing and doors in a Class I Clear anodize to enhance the systems' durability and metallic aesthetic.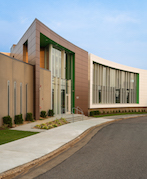 David Miller, AIA, LEED® AP, a project designer with UrbanWorks Architecture, elaborated, "As the new corporate headquarters and as a company in the tech industry, DC Group wanted its building to have a modern, sleek, new look. Tubelite's metal and glass curtainwall helped achieve this contemporary appearance and married up nicely with the existing building."
Integral to Tubelite's curtainwall, extruded aluminum, anodized mullions were incorporated as extended exterior fins. Miller added, "Installed on the eastern elevation facing the River, this dramatic curving curtainwall creates an interesting rhythm and design motif. On the interior, it offers access to daylight and panoramic views."
"The office is inviting and energized now. The big windows and natural light make the workday so much more pleasing," said one of DC Group's sales assistants.
New employee amenities, such as fitness rooms and bike storage, encourage healthy lifestyles and alternative transit. The addition and renovation repositions the office/warehouse building as a future-looking headquarters, both through the outward expression of the building and the designed-in flexibility of the structure to accommodate DC Group's anticipated growth.
Other locations, including new suburban developments, had been considered for the new headquarters. DC Group realized long-term value by remaining on the site. Financial assistance from the City of Minneapolis included Two-Percent and Business Development Fund loans, and tax increment financing. In recognition of DC Group's commitment to keep and grow jobs in Minneapolis, the company also received City of Minneapolis Grow North funding for the project, a financial incentive focused on bringing jobs and businesses to North Minneapolis. In addition, the company was one of the first recipients of the State of Minnesota's Job Creation Fund from the Minnesota Department of Employment and Economic Development (DEED). DEED also provided a contamination cleanup grant.
"We needed more space, but wanted a visually beautiful building that complemented the riverbank. We were thrilled to be able to remain in this location and to improve our presence here," CEO Jon Frank said.
Completed in Sept. 2015, DC Group expects to add more than 30 new jobs in the next few years, increase the number of clients they serve, and provide service to more of North America. "The additional capacity ensures that we'll continue to be able to provide rapid and professional response and service to our clients, even as we maintain our trajectory of continued growth," concluded Frank.
**
DC Group, 1977 West River Rd. N., Minneapolis, MN 55411; http://www.dc-group.com
* Owner: DC Group; Minneapolis; http://www.dc-group.com
* Architect: UrbanWorks Architecture LLC; Minneapolis; http://www.urban-works.com
* Construction manager: Greiner Construction; Minneapolis; http://www.greinerconstruction.biz
* Glazing systems – installer: Brin Contract Glazing, a division of Brin Glass Company; Minneapolis; http://www.bringlass.com
* Glazing systems – manufacturer: Tubelite Inc.; Walker, Michigan; http://tubeliteusa.com
* Glazing systems – manufacturer's representative: Hillesheim Architectural Products, Inc.; Faribault, Minnesota; http://www.hap-inc.net
* Glazing systems – glass manufacturer: Oldcastle BuildingEnvelope®; Albertville, Minnesota; http://www.obe.com
* Glazing systems – finishing provider: Linetec; Wausau, Wisconsin; http://www.linetec.com
* Photos by: Paul Crosby Architectural Photography
**
About Tubelite Inc.
Established in 1945, Tubelite celebrates 70 years of dependable service, fabrication and distribution of architectural aluminum products. Part of Apogee Enterprises, Inc., the company is an industry leader in eco-efficient storefront, curtainwall and entrance systems, and recognized for its fast, reliable and consistent delivery. Tubelite's corporate office, fabrication, warehouse and shipping operations are located in Walker, Michigan. Its Dallas location provides additional fabrication, warehouse and shipping operations, and its facility in Reed City, Michigan, houses the company's aluminum extrusion operation.
Tubelite and its staff are members of the American Architectural Manufacturers Association (AAMA), the American Institute of Architects (AIA), the Construction Specifications Institute (CSI), the Glass Association of North America (GANA), the National Fenestration Rating Council (NFRC), the Society of Military Engineers (SAME) and the U.S. Green Building Council (USGBC).
###
Media contact: Heather West, 612-724-8760, heather@heatherwest