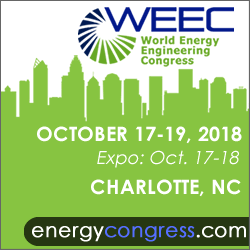 Apogee Enterprises, Inc.'s Building Retrofit Strategy Team will be representing Tubelite at the 41st World Energy Engineering Congress (WEEC) in North Carolina's Charlotte Convention Center. Apogee will exhibiting at the Expo in Hall A, booth #229 on Oct. 17, 10 a.m.-6 p.m. and Oct. 18, 10 a.m.-4 p.m. 

WEEC Expo attendees will be introduced to Apogee's Building Retrofit Team's free energy modeling, which helps identify opportunities for energy savings in existing building envelopes using today's high-performance glass and aluminum window systems.
 
In addition, Apogee's Retrofit team provides design and specification assistance, budgeting, tax and utility incentive research, and a network of installers covering North America.
 
To connect with Apogee's Retrofit team at WEEC, please register for the free expo-only registration at http://www.energycongress.com. 


About Apogee's Building Retrofit Strategy Team
Apogee Enterprises, Inc.'s Building Retrofit Strategy Team, in conjunction with its businesses, assists building owners and property managers to evaluate the benefits of window renovation and upgrades, such as:
* Improving the building's appearance and views
* Saving energy
* Downsizing HVAC capacity
* Increasing occupants' comfort, wellness and productivity
* Protecting property and occupants
* Reducing maintenance
* Adding usable floor space
* Lowering vacancy rates
* Increasing rental rates
* Enhancing the value of the building

Apogee's business units supporting these building retrofit strategies include Alumicor; EFCO Corporation; Harmon, Inc.; Linetec; Sotawall; Tubelite Inc.; Viracon; and Wausau Window and Wall Systems.

To learn more about Apogee's Building Retrofit Strategy Team's services and success stories, please visit http://apog.com/renovation.html or contact Kevin Robbins at krobbins@apog.com, 715-409-0821.


About the Association of Engineer Engineers and WEEC
Presented by the Association of Energy Engineers, WEEC will be begin with pre-show workshops on Oct. 15 and continue its programming through Oct. 19 at the Charlotte Convention Center in North Carolina.

Registration options are available for the full conference, where participants can earn up to 10.0 Learning Units toward professional development licensing and certification requirements.

The Association of Energy Engineers includes more than 18,000 members from 100 countries and a network of 98 local chapters. Their mission is "to promote the scientific and educational interests of those engaged in the energy industry and to foster action for Sustainable Development." Learn more about the association at https://www.aeecenter.org.