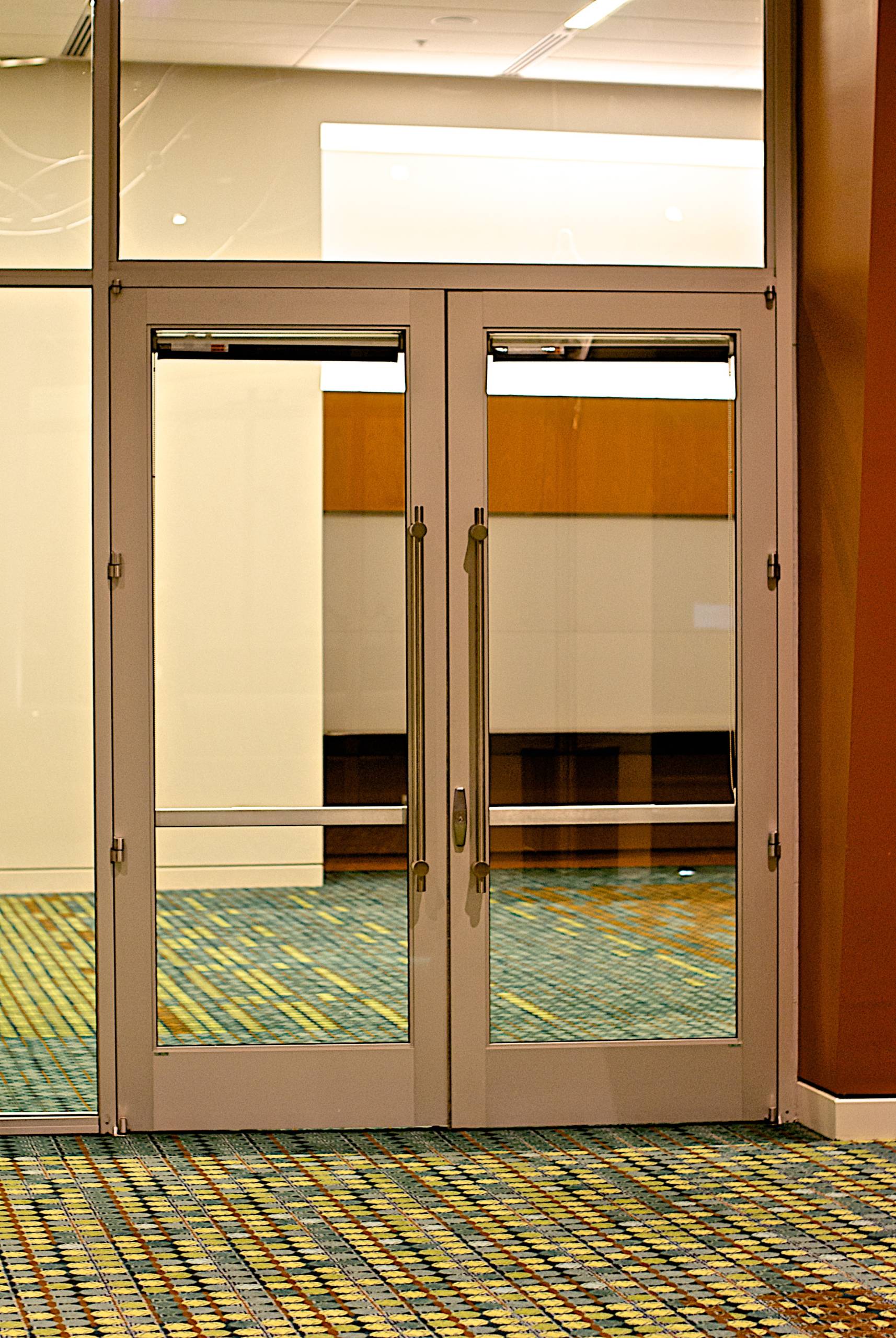 Tubelite is exhibiting at CSI 2013 Booth #343
Opened in May 2013, the new $585 million Music City Center (MCC) in Nashville hosts the Construction Specifications Institute (CSI) annual convention and CONSTRUCT Show. Unlike most convention centers' "box with docks" design, MCC showcases a glass and limestone exterior highlighting natural light, outside views and open corridors with more than 1,000 doors. Helping achieve this transparency and connection to surrounding spaces, Tubelite Inc. provided storefront and entrance systems that were installed by Nashville-based Alexander Metals, Inc.
Spanning 1.2 million square feet, MCC has been called a "wide-scraper" as it stretches 19 acres and six city blocks. It offers 353,143-square-foot exhibit space with multiple flex space, 90,000 square feet of meeting rooms/break-out space, a guitar-shaped 57,000-square-foot ballroom with built-in stage, and an 18,000-square-foot junior ballroom.
Musical motifs permeate the facility. Nashville's music and entertainment industry has a $10 billion annual economic impact on the region. Recognizing the economic and cultural importance, the Nashville Songwriters Hall of Fame and more than 100 custom art installation also are displayed inside the MCC.
CSI CONSTRUCT attendees are among the many who will experience the facility's amenities. The Nashville Convention & Visitors Bureau has booked 123 trade shows or conventions at the new center and more than 1 million hotel room nights, a list that extends to 2026. Hotels and other commercial real estate in the surrounding area have responded with new construction and renovation projects to attract arriving visitors.
Inspiring the building boom, MCC's design team includes tvsdesign of Atlanta with Tuck-Hinton Architects and Moody-Nolan, Inc., both of Nashville. "There is a lot of love, care, heart and soul that have gone into this project from all three firms, the construction team and the mayor," said one of the project's principal architects at tvsdesign, C. Andrew McLean, FAIA. "We all wanted to create a landmark that would not only make Nashville proud, but also reflect the unique culture of the area."
In keeping with the city's commitment to sustainable development, the MCC is committed to LEED® Silver certification through the U.S. Green Building Council. Contributing to the project's green goals, the aluminum used to produce Tubelite's 8-foot-tall monumental doors and storefront systems was extruded using EcoLuminum™, a high recycled-content aluminum billet composition with eco-friendly, durable finishes.
Supporting the MCC's indoor air quality control plan requiring the use of low-emitting volatile organic compounds (VOCs), Tubelite's aluminum framing was finished by Linetec using clear anodize, which uses no VOCs. Because it is an integral part of the substrate, the anodic coating results in a hard, durable substance providing excellent wear and abrasion resistance with minimal maintenance. Anodize process by-products are recyclable and anodized aluminum is 100% recyclable.
"We wanted to not only make this a landmark structure for Nashville, but we also wanted to show a deep respect for the Tennessee environment," said tvsdesign's Kevin Gordon, AIA, LEED AP, another of the project's principal architects.
From top to bottom, MCC focuses on environmental considerations. The facility is capped with 175,000-square-foot vegetative roof with 845 photovoltaic panels. A key design element, the roof is described as undulating "to represent the rolling hills of Tennessee and the sound waves that can be overheard by musicians playing in clubs on Broadway, at the Grand Ole Opry or Schermerhorn Center."
Located in the heart of downtown Nashville, the convention center took 3.5 years to construct due in part to its scale and complex geometry, and also to a devastating flood that hit the city in May 2010. (A time-lapse video of the construction can be viewed at http://www.tennessean.com/section/projects07.) More than 7,300 people worked on the project's construction and completed the project one week ahead of schedule in April 2013.
Leading the effort, general contractor Bell/Clark's joint venture team is comprised of Bell & Associates Construction, LP, of Brentwood, Tenn., and Clark Construction Group, LLC, in association with Harmony Construction Group, LLC, of Nashville. Additional Nashville-based project partners include Ross Bryan & Associates and Logan Patri Engineering, structural engineers; I.C. Thomasson Associates Inc., and ECS mechanical engineers; and Barge Waggoner Sumner and Cannon, Inc., civil engineers.
"The entire project and construction management team and all the subcontractors and suppliers have proven their commitment to the project and the city of Nashville throughout the last three years, giving us regular updates that validated our confidence in them," said Convention Center Authority chair, Marty Dickens. "They have done an outstanding job."
"I applaud the project management team and its crew for finishing construction of the Music City Center ahead of their deadline," Mayor Karl Dean also stated. "It is no small feat to finish construction on time, but to do so for a project of this scale is truly remarkable.
In May, MCC's grand opening celebrations took place with a concert headlined by Sheryl Crow. In June, the project was honored with an Excellence in Building Green at the Governor's Environmental Stewardship awards from the Tennessee Department of Environment and Conservation. In July, it was named the winner of the Greater Nashville Hospitality Association's Associate Award of Excellence. In August, the facility's architectural team proudly joined their colleagues at the AIA Tennessee Convention and Exhibition held at MCC.
"I continue to be impressed by the size and beauty of the Music City Center," Dean said. "There's no doubt we are a city with momentum, and with the opening of the Music City Center… even more tourists and conventioneers will get to see that first hand. We know it's not going to be the biggest convention facility in the country, but I'm absolutely certain it will be the best."
**
Music City Center; G, 150 4th Ave N #250G, Nashville, TN 37219; http://www.nashvillemusiccitycenter.com/
* Owner: Convention Center Authority, Metropolitan Government of Nashville and Davidson County; Nashville, Tenn.; http://www.nashvilleconventionctr.com
* Architect: tvsdesign; Atlanta; https://www.tvsdesign.com/
with Tuck-Hinton Architects; Nashville, Tenn.
and Moody-Nolan, Inc.; Nashville, Tenn.
* General contractor: Bell/Clark joint venture team of
Bell & Associates Construction, LP; Brentwood, Tenn.;
Clark Construction Group, LLC; http://www.clarkconstruction.com/
in association with Harmony Construction Group, LLC; Nashville, Tenn.;
* Glazing contractor: Alexander Metals, Inc.; Nashville, Tenn.; http://www.alexandermetalsinc.com
* Entrance systems – manufacturer: Tubelite Inc.; Walker, Mich.; http://tubeliteusa.com
* Entrance systems – glass fabricator: Oldcastle BuildingEnvelope; Santa Monica, Calif.; http://www.oldcastlebe.com/
* Entrance systems – finisher: Linetec; Wausau, Wis.; http://www.linetec.com
* Construction Specifications Institute: http://www.csinet.org/
* CONSTRUCT Show: http://www.constructshow.com/
###
Media contact: Heather West, heather@heatherwestpr.com