All current and active Tubelite customers can enjoy access to the Client Portal and its features.
Those using the portal most often view their up-to-date order information and shipping status.
Increasingly, our customers also are watching installation and tour videos. Our clients-only video library continues to expand and currently includes:
* Storefront installation, in English or Spanish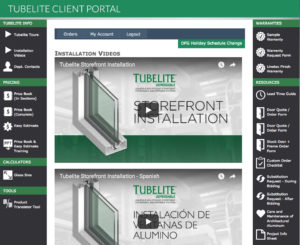 * Curtainwall installation
* Tie-rod doors' repair and re-assembly
* Door glazing for a standard door with 1-inch glass
* Door glazing for a standard door with 1/4-inch glass
* Tour of our company
* Tour of our extrusions, "How do they do that?"
Our interactive Tubelite Translator Tool has seen nearly constant use since coming online in October 2017. Clients effortlessly translate Tubelite's extensive offering, by product descriptions and part numbers, with systems and parts of other suppliers.
Regularly updated, other downloadable resources are available with a simple click:
* The complete Price Book, Easy Estimate tool and training presentation
* Substitution requests for support during or after bidding
* Quote and order forms for doors and custom products
* Glass size calculator
* Lead-time guide
* Care and maintenance guide
* Warranty information
Tubelite is dedicated to our clients and continues to seek ways of improving the partnership experience.
Registering for access is as easy as providing your email and password, and confirming your custom and contact information.
Click here to get started.