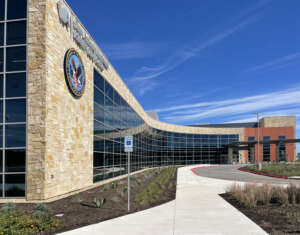 The new Veterans Affairs (VA) Community Based Outpatient Clinic in San Antonio, Texas, offers patients, medical professionals, staff and visitors an environment promoting health, life-safety and well-being. Representing these principles, Hoefer Wysocki Architecture designed the building's main entry with sweeping curved exterior as a "healing embrace."
Bringing the concepts to reality, the three-story, 226,148-square-foot facility features Tubelite's high-performance ForceFront® Blast Curtainwall, Storefront and Entrances on the exterior. Tubelite's interior framing systems also were provided for the security entrance vestibule and breakroom. All the aluminum was finished by Linetec in "Silversmith" color using 70% PVDF resin-based architectural coating.
The VA's finished aluminum framing and glazing systems were installed by San Antonio-based glazing contractor Bulverde Glass, in collaboration with Jacobsen Construction. Working closely with Bulverde, Sage Architectural Products consulted with the design and construction team to meet the project's modern aesthetic goals and numerous performance requirements.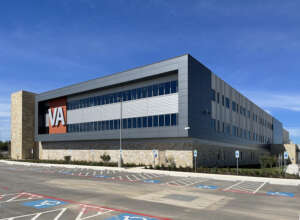 In addition to his professional role at Bulverde Glass as the project's foreman, Robert Smith has a personal connection to the facility as a retired U.S. Army Sergeant and a veteran of Operation Enduring Freedom 2007/2009. "It was an honor for me and my team to be a part of this project! Beautifully designed and structurally sound, this building is one my favorites to ever work on. Realizing the vision to completion is extremely satisfying. Wonderfully designed, San Antonio VA will be an inviting and calming facility for our Vets."
Completed in the summer of 2021, the new outpatient clinic offers general and mental health, surgery, imaging, lab, pharmacy and CT/MRI services to the area's 150,000 veterans, serving up to 1,000 patients each day. The facility's design follows the VA's Patient Alignment Care Team (PACT) delivery model, a patient-driven, team-based approach to health care focused on wellness and prevention.
Complete Healing Experience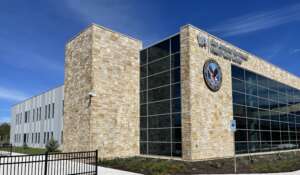 Realizing the VA clinic's architectural vision, Bulverde installed approximately 14,600 square feet of Tubelite's ForceFront Blast systems to form the façade's comforting embrace. Complementing the silver-colored aluminum framing and reflective blue-tinted laminated glass, Texas limestone clads the exterior walls. The local masonry blends with the natural landscaping, suggesting the building may have grown from the ground.
Inviting the outdoors inside, the San Antonio VA's welcoming atrium bathes the curved lobby with daylighting and visually links the upper floors with the main level and front entrance. On the other elevations, Tubelite's blast-mitigating storefront creates the multi-story spans and single "punched" openings. The views outside extend the sense of connection beyond the clinic's walls with access to a park-like pedestrian-friendly setting, further supporting the complete healing experience.
Natural and locally sourced materials, daylighting strategies, views and access to the outdoors, and other sustainable elements demonstrate to the VA's commitment to green building practices. Designed to achieve Green Globe certification, the new medical center consolidates existing services from multiple clinics into one efficient, centralized, community-based location.
Balanced Performance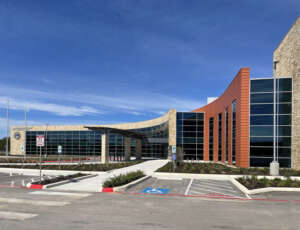 The VA project team outlined numerous performance-based specifications for the project. Tubelite's systems addressed all requirements including local and federal building codes, wind loads of up to 120 mph, condensation resistance, solar heat gain and thermal performance criteria, and blast mitigation.
Tubelite's ForceFront Blast systems are engineered to comply with the blast hazard-mitigating requirements for the U.S. Department of Defense (DoD), the General Service Administration (GSA) and the VA Office of Construction and Facilities Management's "Physical Security and Resiliency Design Manual" (PSRDM).
"The effectiveness of the PSRDM and the impact on the overall design is a balance between the cost of protective measures and the cost of regrets. The most beneficial protective measures typically involve the design of anti-shatter facade systems and the hardening of structures to resist the effects of progressive collapse," notes the PSRDM, Sept. 2021 edition.
"The goal is to protect people, property and assets, and to do so with cost-effective systems that provide safe, healthy, comfortable buildings," said Greg Hall, Tubelite's product development manager. "Blast criteria vary by project and selecting the appropriate product with the right glass and anchorage is challenging even for experienced professionals."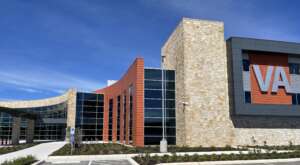 Meeting the San Antonio VA's unique specifications, Tubelite's systems' aluminum framing members were fabricated in three standardized profiles with steel reinforcing to support load requirements and maintain structural integrity. Simplifying installation with a modular approach, Tubelite ForceFront Blast Standard Medium Stile Entrances complement and easily integrate with the curtainwall and storefront systems.
Tubelite ForceFront Blast 400T Curtainwall and T34000 Storefront systems also are thermally broken to support energy-efficiency goals and requirements. Assisting with whole product energy performance evaluation, Tubelite is an approved, qualified user of the National Fenestration Ratings Council (NFRC) Component Modeling Approach and software tool.
Successful Outcomes, Care-Focused Design
"Coordinating with the U.S. Department of Veterans Affairs, the VA subcontractors, the developer, the design team and all trade partners on the project has been an extraordinary process with wonderfully successful outcomes," said Drew Watkins, Jacobsen Construction's project manager.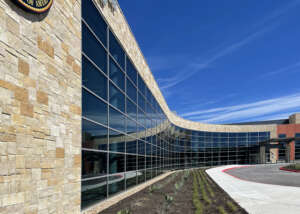 "Our work with the VA is unlike any other client – it's a partnership with a shared goal, which is to provide high-quality care that's responsive to veterans' needs," said Hoefer Welker's partner and director of design, Hosam Habib, AIA. The architecture firm has designed 30 community-based outpatient facilities in partnership with the VA, totaling nearly 3.5 million square feet in development across 12 states.
Habib continued, "A common theme throughout all of our VA facility designs is to promote a sense of camaraderie, hospitality, social responsibility to the environment and a focus on the entire health of the person. Ultimately, we want to provide care-focused designs that reflect our country's commitment and gratitude toward veterans as well as an understanding of their and their families' physical, psychological and emotional needs."
The San Antonio VA Community Based Outpatient Clinic is part of the South Texas Veterans Health Care System. The system serves more than 100,000 veterans and has one of the largest coverage areas in the VA health care system as one the leading health care systems in the VA Heart of Texas Health Care Network. This innovative care center works within the Veterans Integrated Service Network (VISN 17), which includes medical centers and clinics in Texas and New Mexico.
**
Veterans Affairs Community Based Outpatient Clinic, 9939 Texas 151 Access Rd, San Antonio, TX 78251; https://www.va.gov/south-texas-health-care
• Architect: Hoefer Wysocki Architecture (now, Hoefer Welker Architecture); Dallas; https://hoeferwelker.com
• General contractor: Jacobsen Construction Company, Inc.; Salt Lake City; https://www.jacobsenconstruction.com
• Glazing contractor: Bulverde Glass, Inc.; San Antonio, Texas; https://www.bulverdeglass.com
• Curtainwall and storefront systems – glass: Guardian Glass; Auburn Hills, Michigan; https://www.guardianglass.com
• Curtainwall, storefront, entrance systems – manufacturer: Tubelite Inc.; Walker, Michigan; https://tubeliteusa.com
• Curtainwall, storefront, entrance systems – manufacturer's representative: Sage Architectural Products, LLC; Austin, Texas; https://www.sage-ap.com
• Curtainwall, storefront, entrance systems – finishing provider: Linetec; Wausau, Wisconsin; https://linetec.com
• Photos by: Tyler Messer, Bulverde Glass, Inc.
About Tubelite Inc.
For more than 75 years, glazing contractors have counted on Tubelite's dependable service, fabrication and distribution of architectural aluminum products. Part of Apogee Enterprises, Inc., the company is an industry leader in eco-efficient storefront, curtainwall and entrance systems, and recognized for its fast, reliable and consistent delivery.
Tubelite's corporate office, fabrication, warehouse and shipping operations are located in Walker, Michigan. Its Dallas location provides additional fabrication, warehouse and shipping operations. Its facility in Reed City, Michigan, houses the company's aluminum extrusion operation. The company also has an office in Warwick, Rhode Island.
Tubelite and its staff are members of the American Institute of Architects (AIA), the Construction Specifications Institute (CSI), the Fenestration and Glazing Industry Alliance (FGIA), the National Glass Association (NGA), the National Fenestration Rating Council (NFRC), the Society of Military Engineers (SAME) and the U.S. Green Building Council (USGBC).
###