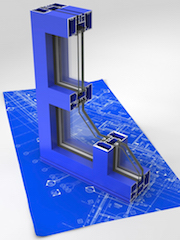 Tubelite Inc. introduces E/T34000 Series storefront system as part of its ForceFront™ Blast products, engineered for high-security in low- and mid-rise building projects. The storefront's framing provides improved thermal performance, and are glazed with insulated laminated glass for energy efficiency and safety. ForceFront curtainwall and Monumental Wide Stile entrance systems match Tubelite's 34000 Series storefront's performance and sightlines to offer a complete blast hazard mitigation system.
ForceFront Blast products are designed for compliance with ASTM International standard F 1642-04, the U.S. General Services Administration Interagency Security Committee (GSA/ISC) TS01-2003 security design criteria and U.S. Department of Defense Unified Facilities Criteria (DoD UFC) 4-010-01 requirements. The products are tested to meet blast performance of 6 psi peak pressure at 42 psi-msec impulse, but each project requires separate review to meet unique specifications.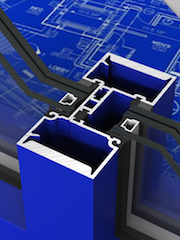 Tubelite's 34000 Series features a 2-1/2-by-5-inch flush-glazed system and screw-spline framing, glazed with 1-5/16-inch laminated glass positioned in the center of the frame. This new addition is offered as either a non-thermal system or with a single poured-and-debridged thermal improvement option. Both choices easily accommodate insulated glass.
The aluminum used to produce all of Tubelite's ForceFront systems can be extruded using EcoLuminum™, a high recycled-content aluminum billet composition with eco-friendly, durable finishes. Seven anodized finishes and 20 standard paint colors are available, and upon request, blended and custom colors may be specified.
Durable finishes reduce buildings' maintenance costs and enhance long lifecycles. Coupled with 34000 Series' recycled aluminum content option, daylight, views, energy-efficient thermal performance and condensation resistance, these attributes also may support projects seeking LEED® certification or other green building criteria.
###
Media contact: Heather West, heather@heatherwestpr.com