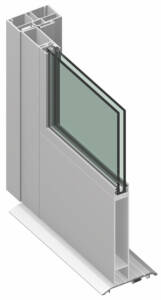 Walker, Michigan (June 2021) – Tubelite Inc. has expanded its ForceFront® Blast product family to include a full range of high-security curtainwall, storefront, entrance door systems for low- and mid-rise government, health care, educational and commercial building projects.
Tubelite's ForceFront Blast systems are engineered to comply with the blast hazard-mitigating requirements for U.S. Department of Defense (DoD), General Service Administration (GSA) and Veterans Affairs (VA) applications. In addition to verified fenestration systems, Tubelite provides its clients with engineering and estimating support services to deliver projects' required performance with competitive pricing.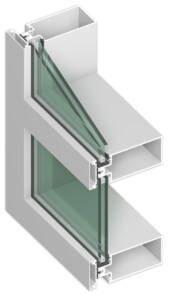 "The Tubelite ForceFront Blast family of products are now a complete package of curtainwall, storefront and entrances, providing maximum safety and security for public and private construction projects," said Greg Hall, Tubelite's product development manager. "ForceFront Blast systems are engineered for simple integration with each other in complex, new construction DoD, GSA, VA and other applications, or as part of a building envelope retrofit."
Hall continued, "The goal is to protect people, property and assets, and to do so with cost-effective systems that provide safe, healthy, comfortable buildings. Blast criteria vary by project and selecting the appropriate product with the right glass and anchorage is challenging even for experienced professionals. We've simplified this process by creating a secure online form to collect the necessary design requirements upfront, so we can personally and effectively respond with optimal, project-specific product selections."
Adding to clients' peace of mind, Tubelite's in-house team has been trained to use the GSA's Window Glazing Analysis Response and Design (WINGARD) professional edition. WINGARD's software and methodology analyzes and predicts the behavior of window glass under blast loads. It has limited distribution and is generally reserved for those approved to support the GSA Glass Fragment Retention for Windows Program.
Tubelite ForceFront Blast 400T Curtainwall and E/T34000 Storefront systems have been improved for thermal performance, additional glazing options, higher load capacity and easier installation. Their aluminum, blast-resistant framing members also are thermally broken to support projects' energy-efficiency goals and requirements.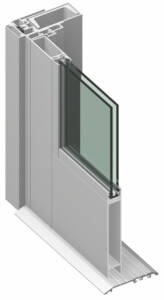 Both Tubelite ForceFront Blast Standard and Monumental Stile Entrances complement and easily integrate with the blast hazard-mitigating curtainwall and storefront systems. Single door sizes start at 3-feet-wide and 7-feet-high, and double door openings span up to 8-by-8-feet. Like all of Tubelite's entry doors, ForceFront Blast entrance frames feature durable tie-rod construction. They are available with options for heavy-wall extrusions and steel reinforcing. ADA-accessible thresholds and a wide range of hardware is offered.
All of Tubelite's ForceFront systems can be finished in 19 standard paint colors, 10 anodize finishes plus custom color coatings. Durable finishes reduce buildings' maintenance costs and enhance long lifecycles. At the end their use on a building, the aluminum from Tubelite ForceFront Blast products can be recycled and reused.
About Tubelite Inc.
For more than 75 years, glazing contractors have counted on Tubelite's dependable service, fabrication and distribution of architectural aluminum products. Part of Apogee Enterprises, Inc., the company is an industry leader in eco-efficient storefront, curtainwall and entrance systems, and recognized for its fast, reliable and consistent delivery.
Tubelite's corporate office, fabrication, warehouse and shipping operations are located in Walker, Michigan. Its Dallas location provides additional fabrication, warehouse and shipping operations. Its facility in Reed City, Michigan, houses the company's aluminum extrusion operation. The company also has an office in Warwick, Rhode Island.
Tubelite and its staff are members of the American Institute of Architects (AIA), the Construction Specifications Institute (CSI), the Fenestration and Glazing Industry Alliance (FGIA), the National Glass Association (NGA), the National Fenestration Rating Council (NFRC), the Society of Military Engineers (SAME) and the U.S. Green Building Council (USGBC).
###