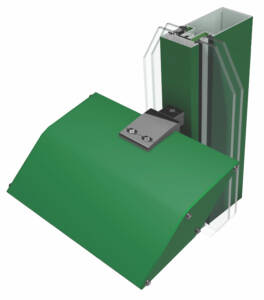 Walker, Michigan (Nov. 2020) – Offering more options for daylighting and shading strategies on commercial buildings, Tubelite Inc. introduces MaxBlock® Single Blade Sun Shades with a single, horizontal, airfoil-shaped blade in 6- and 9-inch depths, and widths spanning up to 149 inches. This new design expands the MaxBlock Sun Shades by Tubelite line of multi-blade airfoil, tubular and "Z" blade sun control product selections.
Sun shades contribute to managing solar heat gain by shading vision glass, while allowing natural light into the building envelope without obscuring the view. This helps maintain a comfortable interior temperature for building occupants and minimizes glare on screens and monitors, along with the associated eye strain. For building owners, reducing solar heat gain and the corresponding HVAC demands increases the opportunity to save on utility costs with energy-efficient performance.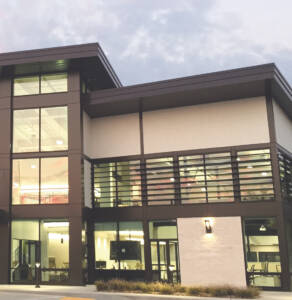 Tubelite's MaxBlock Sun Shades can be manufactured with recycled aluminum content. The products' many attributes support projects seeking certification through U.S. Green Building Council's LEED® rating systems, and other performance-based environmental and wellness programs. Protecting the aluminum and enhancing the building's design, the sun shades can be finished in choice of durable anodize, colorful painted coatings or simulated woodgrain powdercoat.
The large horizontal airfoil blades' aerodynamic design directs wind and water out and away from the building. They span up to 96 inches un-spliced, and spliced, up to 149 inches. Engineered for easy installation, the two-piece bracket fastens at the pressure plate area and can be detached in individual sections to accommodate future reglazing applications. The sun shades conveniently integrate with Tubelite storefront and 400 Series curtainwall systems.
Please click here to learn more about MaxBlock Sun Shades by Tubelite.
About Tubelite Inc.
For more than 75 years, glazing contractors have counted on Tubelite's dependable service, fabrication and distribution of architectural aluminum products. Part of Apogee Enterprises, Inc., the company is an industry leader in eco-efficient storefront, curtainwall and entrance systems, and recognized for its fast, reliable and consistent delivery.
Tubelite's corporate office, fabrication, warehouse and shipping operations are located in Walker, Michigan. Its Dallas location provides additional fabrication, warehouse and shipping operations. Its facility in Reed City, Michigan, houses the company's aluminum extrusion operation. The company also has an office in Warwick, Rhode Island.
Tubelite and its staff are members of the American Institute of Architects (AIA), the Construction Specifications Institute (CSI), the Fenestration and Glazing Industry Alliance (FGIA), the National Glass Association (NGA), the National Fenestration Rating Council (NFRC), the Society of Military Engineers (SAME) and the U.S. Green Building Council (USGBC).
To learn more about Tubelite's products, please visit tubeliteusa.com.
###