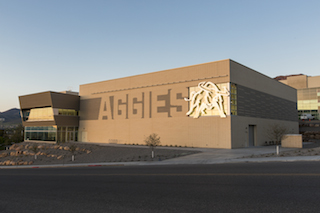 In his 20-plus years of coaching, Stew Morrill never had an office with a window. Now, Utah State University's (USU's) head basketball coach enjoys a gorgeous view of Cache Valley and the Wellsville Mountains framed by Tubelite's curtainwall systems. Morill's office is part of the University's recently completed 32,744 square-foot Wayne Estes Training Center, which houses the campus' basketball practice facility and 1,400-seat volleyball court. The center seeks LEED® Silver certification from the U.S. Green Building Council, a standard that all new USU projects within the last seven years has earned.
Morrill tours USU recruits through the Center with pride and happily hosts them in his office — something he and his staff had never done before the new facility opened in May 2014. The expansive glass and metal façade that characterizes his office — and the $9.7 million facility as a whole — gives the building the aesthetic and practical appeal crucial for competing in the ultra-competitive recruiting environment of college athletics.
The impressive, daylight-filled lobby interior of the new facility, recognizes the Center's namesake, Wayne Estes, as the greatest basketball player in USU's history. He played for the Aggies from 1963 to 1965 and likely would have gone on to play in the NBA, but died in an electrical accident in 1965. He was posthumously given All-American honor  by the Associated Press, and was inducted into the Naismith Memorial Basketball Hall of Fame in 1967. A large mural, memorabilia and a touchscreen educational kiosk share his life's story in the building that serves as a tribute to his legacy. In addition to the memorial lobby and the office space, the facility contains a training room, strength-and-conditioning area, two regulation-size basketball courts and a regulation-size volleyball competition court.
Before the Center came online, USU was utilizing a nearby high school court for some of its basketball and volleyball practices, because there was not enough court space available on campus. These scheduling challenges were in turn causing interruptions to student-athletes' class schedules. "Wayne Estes Center provides an outstanding opportunity to recruit student-athletes because of the services it provides, and the wow factor it has," said Scott Barnes, USU vice president and director of athletics."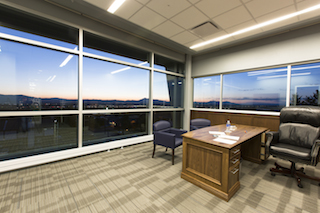 Designed by VCBO Architecture, USU's new Wayne Estes Training Center was built by Okland Construction on a 10-month timeline. Beginning in September 2013, glazing contractor Steel Encounters Inc. installed the Center's signature exterior curtainwall using Tubelite's 400 Series system. Using Tubelite's standard sun shade clips, Ducworks Inc. added a stainless steel, laser-cut, bull-shaped "Aggie" logo to accent the building.
The room above the court is called "the closing room," because it presents such an enticing view for recruits visiting the facility. "The curtainwall system that contains the 'closing room' had to be as unobstructed as possible to enhance game views from this location," notes VCBO's principal, Derek Payne, AIA, LEED AP. "Potential recruits, potential donors and important visitors will all enjoy games from this location. The look of the cantilevering glass cube from the court below is also important. The sleek, mullionless look of this projection into the playing venue adds a bit of surprise and elegance to the game environment."
Along with its attractive design, USU's Wayne Estes Training Center was built to meet performance standards set by Utah's Division of Facilities Construction & Management's State Building Energy Efficiency Program (DFCM's SBEEP). This program works to increase energy efficiency in both new and existing state buildings, and includes design and building to LEED Silver requirements. Since 2006, SBEEP reports more than $11 million in energy cost savings. Exemplifying this, Utah's DFCM introduced an innovative approach to building envelope design on all new buildings that allow the mechanical systems to be downsized, along with significant reduction in ongoing utility costs and associated emissions.
Emphasizing the long-term savings, DFCM's energy development director John Burningham wrote in the division's recent newsletter (Second Quarter 2014): "Over the years DFCM has learned the immense value of having high performing building envelopes. Quality systems that perform as designed provide value to the building and its occupants for decades. Unlike mechanical systems that generally have an expected life of 10 to 20 years, the components of the building envelope generally last the entire life of the building. DFCM has one, if not the, most rigorous envelope programs in the nation to ensure the skin of the building is designed and installed with long term performance in mind."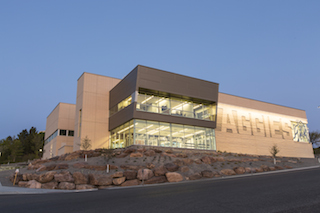 To support the Center's energy-efficiency and LEED Silver certification goals, Tubelite's curtainwall was specified with a fiberglass pressure plate and PPG's Solarban® low-e glass, achieving a maximum solar heat gain coefficient of (SHGC) 0.34 and U-Factor of 0.39 BTU/hr.sqft.ºF. With the fiberglass pressure plate, the framing system also delivers a high condensation resistance factor (CRF) of 76.
Tubelite's 400 Series curtainwall with fiberglass pressure plate has a 2.5-inch sightline and the strength of variable-depth back-members from 4 to 7 inches. Minimizing the need for on-site cutting and fabricating, screw holes and weeps are machined at the factory into the off-white, pultruded fiberglass material.
The curtainwall system's metal back-members and snap-on covers can be extruded by Tubelite using EcoLuminum™, a high recycled-content aluminum billet composition. This also may contribute to obtaining additional credits as outlined by LEED. Enhancing the project's environmental attributes, longevity and metallic appearance, the aluminum components were finished by Linetec using Class II clear anodize, which contains no volatile organic compounds (VOCs). Anodize process by-products are recyclable and anodized aluminum is 100 percent recyclable. Because anodize is an integral part of the substrate, the coating delivers excellent wear and abrasion resistance with minimal maintenance.
"Student-athletes have been absolutely blown away by how nice this facility is," stated USU's Barnes. "What sets the Wayne Estes Center apart is its functionality as both a first-class basketball practice and elite volleyball competition venue. Our men and women's basketball and volleyball coaches have some of the best office views in the entire valley and the finishes are spectacular."
**
Wayne Estes Training Center, Utah State University Athletics, 800 E. and 900 N., Logan, Utah 84321; http://www.utahstateaggies.com
Owner: Utah State University; Logan, Utah; http://www.usu.edu
Project manager: State of Utah, Division of Facilities Construction & Management; Salt Lake City; http://dfcm.utah.gov
Architect: VCBO Architecture; Salt Lake City; http://www.vcbo.com
General contractor: Okland Construction; http://www.okland.com
Glazing contractor: Steel Encounters Inc.; Salt Lake City; http://steelencounters.com
Specialty signage – fabricator and installer: Ducworks, Inc.; Logan, Utah
Glazing systems – manufacturer: Tubelite Inc.; Walker, Michigan; http://tubeliteusa.com
Glazing systems – glass assemblies: PPG Industries; Solarban® 70; http://www.ppg.com
Glazing systems – finisher: Linetec; Wausau, Wisconsin; http://www.linetec.com
Photographers: Larry Ford, Steel Encounters Inc.; and Tyson Bybee, Bybee Photography LLC
###
Media contact: Heather West, heather@heatherwestpr.com