Representing Tubelite, the Apogee Building Retrofit Strategy Team returns to the Building Owners and Managers Association (BOMA) International Expo, June 25-27, in booth #1034. Held at the Music City Center in Nashville, which features Tubelite's storefront and entrance systems, the expo takes place during the annual BOMA conference.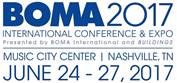 Register and learn more at http://www.bomaconvention.org. Expo-only registration is available at no cost to qualified attendees. Expo hours are: June 25, 3-6 p.m.; and June 26-27, 10:30 a.m.-2 p.m.
Both the expo and conference is produced by BOMA International and BUILDINGS magazine. BOMA International represents the owners and managers of all commercial property types including 10.5 billion square feet of U.S. office space that supports 1.7 million jobs and contributes $234.9 billion to the U.S. GDP.
Apogee Enterprises, Inc.'s Building Retrofit Strategy Team, in conjunction with the its businesses, assists building owners and property managers evaluate the benefits of window renovation and upgrades, such as improving the appearance of the building, saving energy, downsizing HVAC loading, reducing maintenance, lowering vacancy rates, increasing rental rates and enhancing the value of the building.
Learn more at www.apog.com/renovation.
###