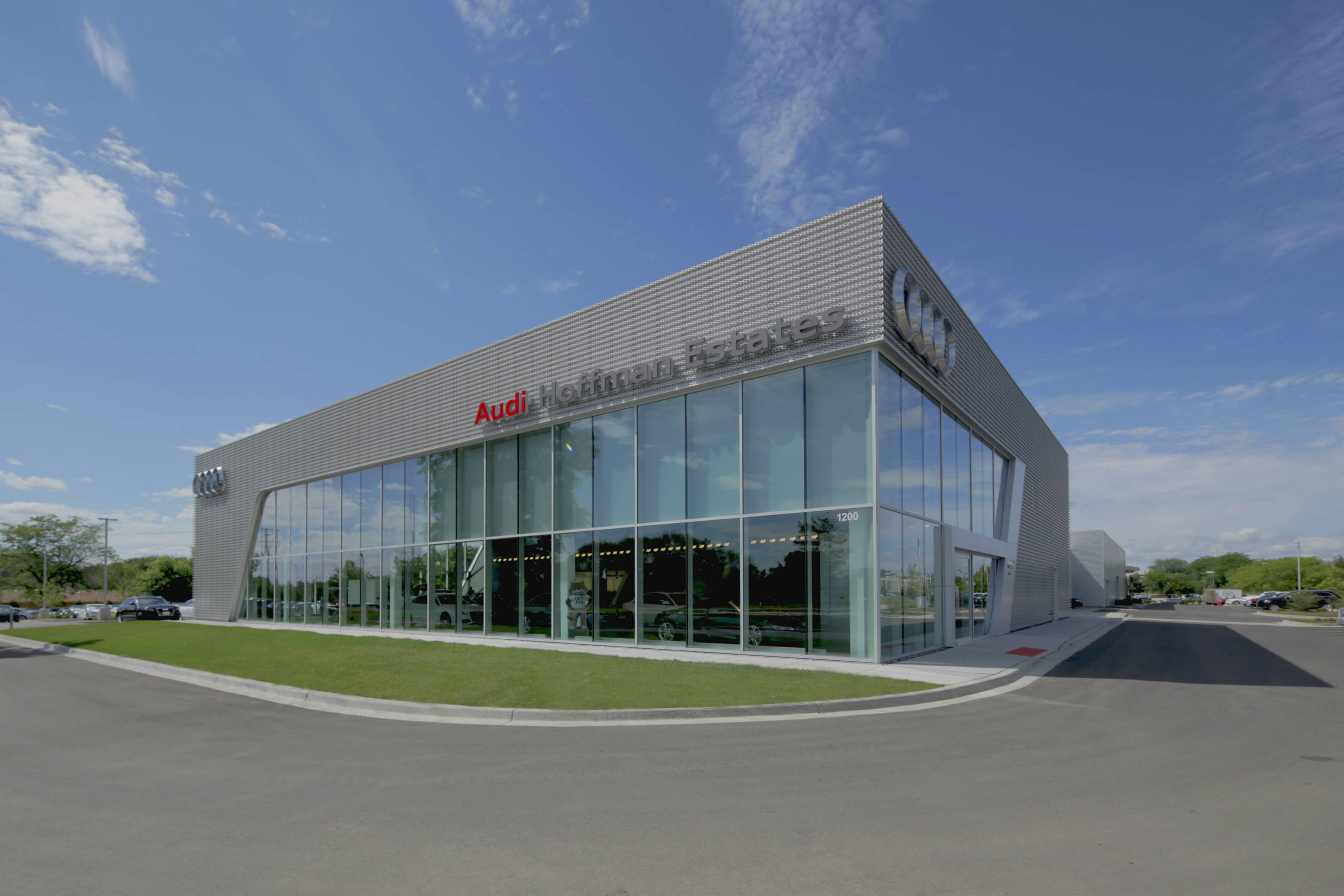 Audi Hoffman Estates dealership in Illinois showcases Tubelite's 400 Series curtainwall and reflects the efficiency, performance, luxury and environmental themes of its vehicles. The new $9 million, 47,000-square-foot facility is one of the first in the Midwest to feature a square, metal-clad "terminal" prototype design by Munich-based Allmann Sattler Wappner Architekten.
In 1990, Audi Hoffman Estates became the first exclusive, stand-alone Audi dealership in the United States. In 2013, it also became one of the first new dealerships in the U.S. to use Allmann Sattler Wappner's design. The Dobbins Group's Chicago-based architectural team helped the Illinois dealership bring this prototype from concept to reality.
Celebrating Audi's "Vorsprung durch Technik," "Progress through Technology," the dealership's prototype reflects a corporate philosophy that "reminds us to challenge ourselves, rewrite the rules from time to time and always fuel our pioneering spirit."
The terminal design gives the Audi a new identity throughout the world. It also increases dealers' space to accommodate the growing range of cars, as well as the company's market presence in international cities. These heterogeneous locations demand an architectural language with both a single consistent typology and a distinctive design. Developed as a modular system, the facility's structural and spatial concept is flexible and scalable.
"It's a very unique look," observed Brian Hall, Audi Hoffman Estates' general manager. "Audi is very demanding on all of their products and the way they're installed, so it was not easy."
Well-suited to the precise design, scale and metallic aesthetic of Audi's dealership, Tubelite's 400 Series curtainwall is engineered for low- and mid-rise applications. For Audi Hoffman Estates, Leopardo Companies served as the project's general contractor. Glazing contractor Northern Glass Inc. specified and installed the curtainwall system on time and within budget.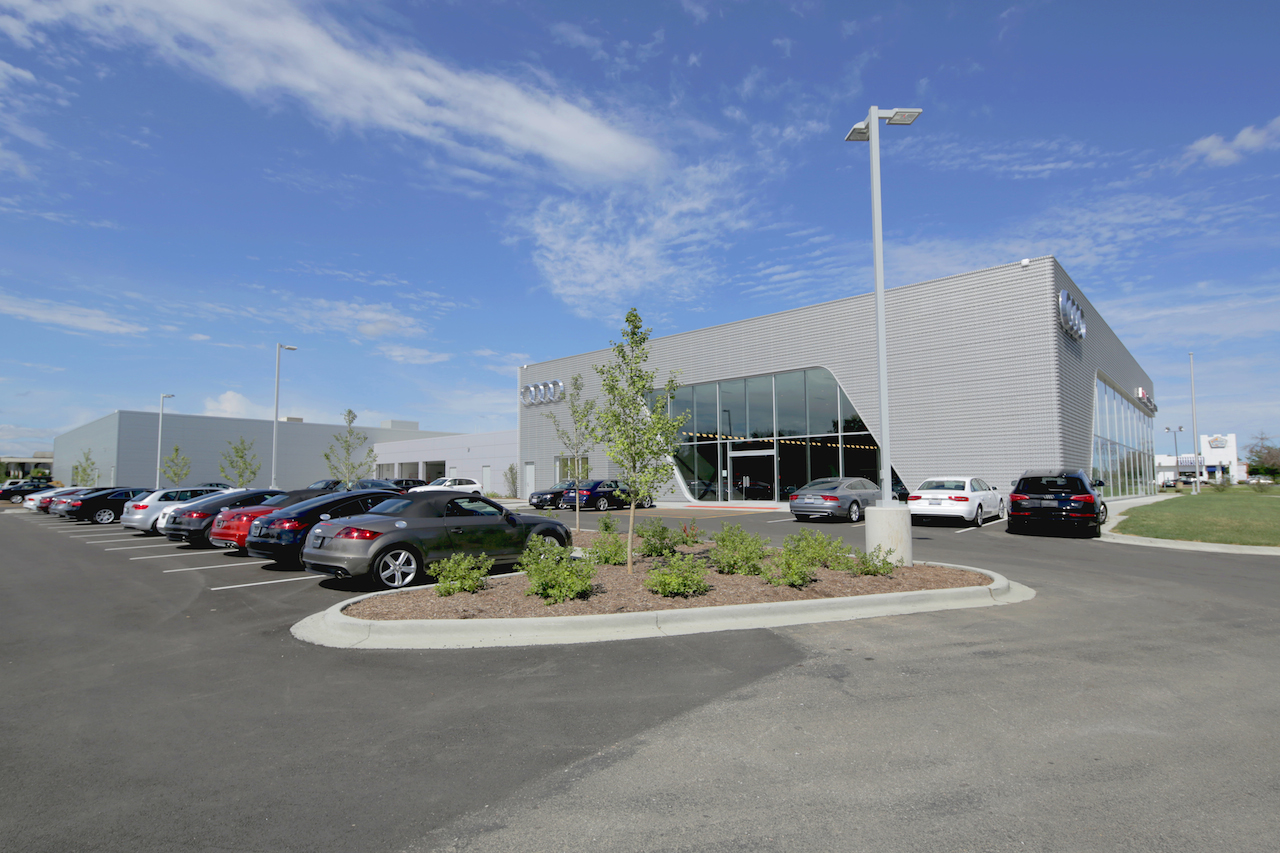 "First, Tubelite came in under my original design budget. What's more, they were able to produce materials in a very timely manner," said Eric Martinson, project manager and estimator with Northern Glass Inc. "Thanks to the Tubelite team, the entire process was a pleasant experience."
The curtainwall features offers 2.5-inch sightlines and the strength of 8-inch-deep backmembers with an overall 10-inch system depth. Every other vertical was butt-glazed. Low-E insulating glass reduces solar heat gain in the summer and heat loss in winter – important in the Chicago climate. An exterior screw-applied pressure bar secures the glass.
The durable framework of the curtainwall provides exceptional structural performance, reducing the need for steel reinforcing. "Tubelite helped engineer the curtainwall, letting us know what size steel reinforcement was needed," noted Martinson. "They also helped with some very difficult bends, located in the opposite top and bottom corners, and delivered all stock length material in a couple of weeks."
The aluminum used to produce this curtainwall can be extruded by Tubelite using EcoLuminum™, a high recycled-content aluminum billet composition with eco-friendly finishes. Enhancing the project's environmental attributes, longevity and metallic appearance, the aluminum framing was finished by Linetec using clear anodize, which contains no volatile organic compounds (VOCs). Because anodize is an integral part of the substrate, the coating delivers excellent wear and abrasion resistance with minimal maintenance. Anodize process by-products are recyclable and anodized aluminum is 100 percent recyclable.
"It's got a lot of metal on the exterior for a very specific look," added Audi Hoffman Estates' Hall. "Everyone seems to love it. …and as for customers, they are all very impressed."
**
Audi Hoffman Estates, 1200 W. Golf Rd., Hoffman Estates, IL 60169; http://www.audihoffmanestates.com
* Owner: AUDI AG; Germany; Audi of America, http://www.audiusa.com/
* Architects: Allmann Sattler Wappner Architekten GmbH; Munich, Germany; http://www.allmannsattlerwappner.de;
The Dobbins Group; Chicago; http://www.dobbinsgroup.com/
* General Contractor: Leopardo Companies, Inc., Hoffman Estates, Illinois; http://leopardo.com
* Glazing Contractor: Northern Glass Inc.; Elk Grove Village, Illinois
* Entrance Systems – Manufacturer: Tubelite Inc.; Walker, Michigan; http://tubeliteusa.com
* Entrance Systems – Finisher: Linetec; Wausau, Wisconsin; http://linetec.com/
* Photography: Leopardo Companies, Inc.
* Video: Leopardo Companies, Inc.; http://vimeo.com/77605308
###
Media contact: Heather West, heather@heatherwestpr.com