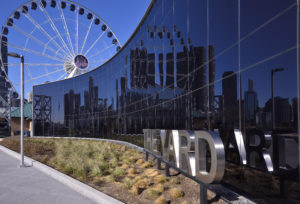 The Yard at Chicago Shakespeare brings a new trend in theater architecture to the city and completes part of the grand plan to transform Navy Pier into a global destination. The new theater features captivating views of the skyline and Lake Michigan through curving curtainwall, sweeping storefront and entrance systems from Tubelite Inc.
Designed by Chicago's Adrian Smith + Gordon Gill Architecture, with the British theater consulting firm Charcoalblue, the new, 33,000-square-foot expansion connects to the Chicago Shakespeare Theater's (CST's) existing building through a two-level, 170-foot-long glass lobby. The lobby's curtainwall showcases one of Chicago's first electrochromic (EC) glazing installations.
Complex Curtainwall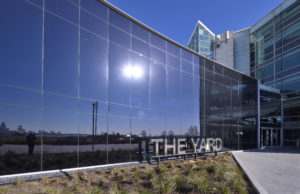 Chicago-based glazing contractor Northern Glass Inc. installed 5,000 square feet of Tubelite's 400SS Series four-side, structurally glazed, aluminum curtainwall. In addition, they used Tubelite's 400 Series standard curtainwall on the main entrance, and 14000 I/O Series storefront on the vestibule and second floor balcony terrace. The curtainwall and storefront systems were finished by Linetec in Class I clear anodize. Bone White painted finishes were applied to Tubelite's Narrow Stile Standard Doors and Medium Stile Therml=Block® Doors.
Eric Martinson of Northern Glass notes that the crescent-shaped lobby "is the building's main feature" composed of Tubelite's four-side, structurally glazed curtainwall. He explains, "Each segment of the curtainwall's horizontal members had to be cut to a different degree; with some down to just a half of a degree difference."
He acknowledges the project "was a tough challenge." Within the curtainwall's aluminum framing members are concealed the wires for the EC glazing from SageGlass, plus 2-by-4 steel reinforcing.
Martinson continues, "We ran it all in our shop and then brought it to the job site. Getting the material there was extremely tricky, as we couldn't drive down the south side of the pier to the site. Instead, we went down the north side, unloaded, carted it all the way around and through the building, and then used a scissor lift to set in place. Not only did we have to tie into the existing structure, but we had to be careful not to disrupt the occupants in the space beneath the construction zone."
High Performance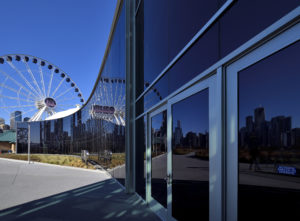 Beyond installation challenges, Martinson notes that Lake Michigan presented special performance requirements. "As it's a four-side, structurally glazed curtainwall, air and water aren't much of an issue, but the wind was a big concern. That's why there's so much steel inside it."
Keeping The Yard's patrons comfortable in every season, optimizing thermal performance for cold winters and hot summers also contributes to the building's energy efficiency and condensation resistance. The computer-controlled dynamic EC glass adjusts the opacity depending upon the level of sunlight. This maintains the view, while managing unwanted heat gain and glare.
"Not only did the SageGlass solve the thermal issues, but it also offered the opportunity to create numerous façade expressions, creating a 'technological veil' for the lobby that the client can manipulate as required," said architect Gordon Gill. "The result is a beautiful and diverse experience consistent with the concept for The Yard."
Adaptable and Sustainable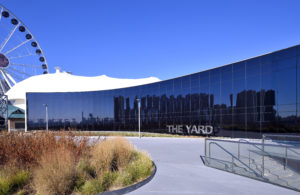 When planning the expansion, CST's leadership took both an economically and environmentally sustainable approach by deciding to repurpose elements of the underutilized former Skyline Stage on Navy Pier. Beneath the existing, signature, white tent, The Yard emerged as a fully enclosed, indoor theater.
The decision to employ adaptive reuse in The Yard's architectural design reduced building costs dramatically, bringing the total cost to $35 million. CST estimates this is far less than half of the projected estimates for entirely new construction. General contractor Bulley & Andrews not only managed the project within budget, but also within schedule.
The Yard's resulting versatility includes an adjustable auditorium that can be reconfigured from a proscenium house to thrust, traverse and in-the-round configurations. Nine four-story-tall moveable seating towers enable the creation of 12 different stage formats seating between 150 and 850 patrons.
"Nothing is more thrilling to theater-makers than flexibility," noted CST's artistic director Barbara Gaines. "The adaptable platform of The Yard gives artists a theatrical 'blank slate' in which to shape their work without the physical constraints of a fixed footprint—and gives audiences an exciting, new perspective from their seats for each production."
Adrian Smith + Gordon Gill Architecture's founding partner, Gordon Gill, noted, "At the foundation of my philosophy is the idea that 'Form Follows Performance' – and nowhere is that more clear than in The Yard at Chicago Shakespeare. Its ability to adjust and adapt to the needs of the art is genuinely innovative… and we've accomplished it in a sustainable, cost-conscious way, which I believe will make it a model for theaters to come."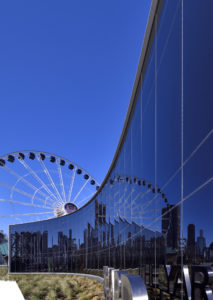 "The Yard is forward-thinking and responsive – and a fitting expression of the theater that Chicago Shakespeare has become," said Criss Henderson, CST's executive director. "The versatility of the space means that it is perfectly suited to the widest range of our work: from large-scale musicals and new commissioned works, to international imports and programs for young audiences, and, of course, bold imaginings of Shakespeare's plays and the classics."
The theater debuted in Sept. 2017 in its proscenium configuration to accommodate the largest possible audience.
**
The Yard at Chicago Shakespeare Theater, 800 East Grand Avenue on Navy Pier, Chicago, IL 60611
* Owner: Chicago Shakespeare Theater; Chicago; https://www.chicagoshakes.com
* Architect: Adrian Smith + Gordon Gill Architecture; Chicago; http://smithgill.com
* Associate Architect: Charcoalblue; London; http://www.charcoalblue.com
* General Contractor: Bulley & Andrews, LLC; Chicago; http://www.bulley.com
* Glazing Contractor: Northern Glass Inc.; Elk Grove Village, Illinois; http://www.nglass.com
* Glazing Systems – electrochromic glass manufacturer: SageGlass; Faribault, Minnesota; https://www.sageglass.com
* Glazing Systems – thermal improvement and finishing services: Linetec; Wausau, Wisconsin; http://www.linetec.com
* Glazing Systems – window and entrance systems: Tubelite Inc.; Walker, Michigan; https://tubeliteusa.com
* Photos by: Michael Lipman
* Videos and photo slideshow: https://www.chicagoshakes.com/yard
About Tubelite Inc.
For more than 70 years, glazing contractors have counted on Tubelite's dependable service, fabrication and distribution of architectural aluminum products. Part of Apogee Enterprises, Inc., the company is an industry leader in eco-efficient storefront, curtainwall and entrance systems, and recognized for its fast, reliable and consistent delivery.
Tubelite's corporate office, fabrication, warehouse and shipping operations are located in Walker, Michigan. Its Dallas location provides additional fabrication, warehouse and shipping operations and its facility in Reed City, Michigan, houses the company's aluminum extrusion operation. The company also has offices in Rock Hill, South Carolina, and Warwick, Rhode Island.
Tubelite and its staff are members of the American Architectural Manufacturers Association (AAMA), the American Institute of Architects (AIA), the Construction Specifications Institute (CSI), the Glass Association of North America (GANA), the National Fenestration Rating Council (NFRC), the Society of Military Engineers (SAME) and the U.S. Green Building Council (USGBC).
###