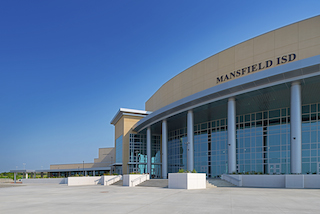 At 141,000 square feet and situated on a Texas hill, Mansfield Independent School District's Center for the Performing Arts commands an audience amongst the students, staff and the community. Its oversized entrances are matched with large, curving spans of glass and aluminum storefront and curtainwall with sun shades – all provided by Tubelite Inc. Towering concrete columns accent the façade for a sense of flow and cascading mass.
Designed by Huckabee, the high school's new performing arts center opened for its first event in 2012. The 5,500-seat Cunningham Performance Hall sits at its heart. Its multi-use design enables the hall to be divided into three separate event venues – including two 750-person lecture halls. In addition, a professional development center accommodates up to 500 and can be divided into six separate break-out rooms designed for meeting, training and banquet needs. Adjacent to the space are three state-of-the-art computer laboratories.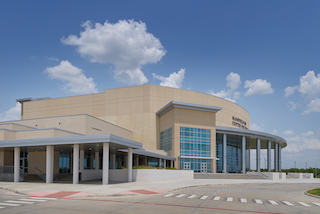 Byrne Construction Services managed the nearly two year-long building project estimated at more than $40 million. Texas Commercial Glass Concepts brought the signature look from creation to completion with Tubelite's products. In total, 3,400 lineal feet of Tubelite's 400 Series curtainwall and 14000 Series storefront wrap the performing arts center. A forecourt plaza collects visitors as they approach the facility, and a short set of stairs emphasizes the procession up the covered walkway, leading to the 9-foot-high wide stile doors at the central lobby tower.
"They wanted an impressive building with big stretches of radius curtainwall, lots of glass and monumental doors." Tubelite was able to step in, meeting the spec and schedule, without missing a beat," said Patric Murphy, vice president/operations manager at Texas Commercial Glass Concepts. "It was one of our larger jobs and it turned out very well. It definitely is impressive."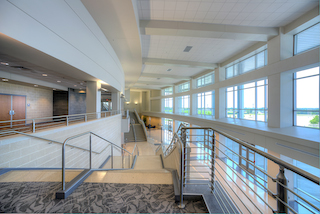 Beyond aesthetics, Tubelite's thermally improved, 7-inch-deep curtainwall and Max/Block™ sun shades help keep out the Texas heat. The sun shades' 5-inch airfoil blades and tubular fascia direct wind and water away from the building. Enhancing the systems' durability, Linetec finished all of the aluminum framing and sun shades in clear anodize.
"This is truly a standout building," says Tubelite's local client development manager. "The entrances, curtainwall and sun shades magnify the scale and sweep of the design viewed from the exterior. Grand views and lots of daylight bring a warmth and sense of place to the interior."
**
Mansfield Independent School District, Center for the Performing Arts, 1110 W Debbie Lane, Mansfield, TX 76063; http://center.mansfieldisd.org
* Architect: Huckabee; Fort Worth, Texas; http://www.huckabee-inc.com
* General contractor: Byrne Construction Services; Fort Worth, Texas; http://www.tsbyrne.com
* Glazing contractor: Texas Commercial Glass Concepts, L.P.; Weatherford, Texas; http://www.texascommercialglass.com
* Glazing systems – finisher: Linetec; Wausau, Wisconsin; http://www.linetec.com
* Glazing systems – manufacturer: Tubelite Inc.; Walker, Michigan; http://tubeliteusa.com
* Photos courtesy of: Huckabee
###
Media contact: Heather West, heather@heatherwestpr.com