Campus International School designed with emphasis on daylighting, connectivity and transparency with Tubelite's systems
Campus International School (CIS) in Cleveland opened in September for the 2017 academic year. Serving 720 students in grades K-8, the new facility incorporates curtainwall, entrance and storefront systems from Tubelite. Light and connectivity guided the architectural vision of ThenDesign Architecture (TDA) and Perkins+Will, brought to life in the exterior glass and metal façade and throughout the school's transparent interiors.
Construction manager ICON, LLC selected Environmental Glass, Inc. as the glazing contractor for CIS. Working on an accelerated schedule, the project began in March 2016 and was completed in August 2017 one month prior to opening.
Environmental Glass installed a combination of:
The aluminum framing members of these products were finished in a Black color, 70% PVDF resin-based coating by Linetec.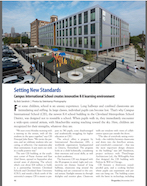 The CIS project success story is featured in the November 2017 issue of PROPERTIES: Northeast Ohio's Monthly Realty, Construction, and Architecture Magazine.

The $24 million dollar, four-story, 93,000-square-foot CIS was constructed on an L-shaped parcel owned by Cleveland State University that previously was used for parking. Today, it provides a permanent home for its students. A four-year expansion plan anticipates adding a new grade each year through grade 12.
Perkins+Will described, "The classrooms face north and south to maximize controllable daylighting, boosting wellness among students and staff and decreasing operating costs. …To increase the amount of both outdoor learning areas and parking, the 93,000 square foot building stacks up efficiently on four levels, surrounding a central, naturally daylit atrium. Gathering the entire student body at least once a week is essential to the program."
Developed as a public school partnership between the Cleveland Metropolitan School District and Cleveland State University, CIS is an International Baccalaureate Primary Years Programme World School and a candidate for the Middle Years Programme. Starting in kindergarten, students receive an international education that includes Mandarin as a second language.
Jeff Henderson, project architect with TDA, told PROPERTIES: "The idea of everybody seeing everybody – the visibility between classrooms and down into the first-floor atrium, and everybody's connected – that was the most important design element in the building."
**
Campus International School, 2160 Payne Ave., Cleveland, OH 44115; http://www.clevelandmetroschools.org/CIS
###