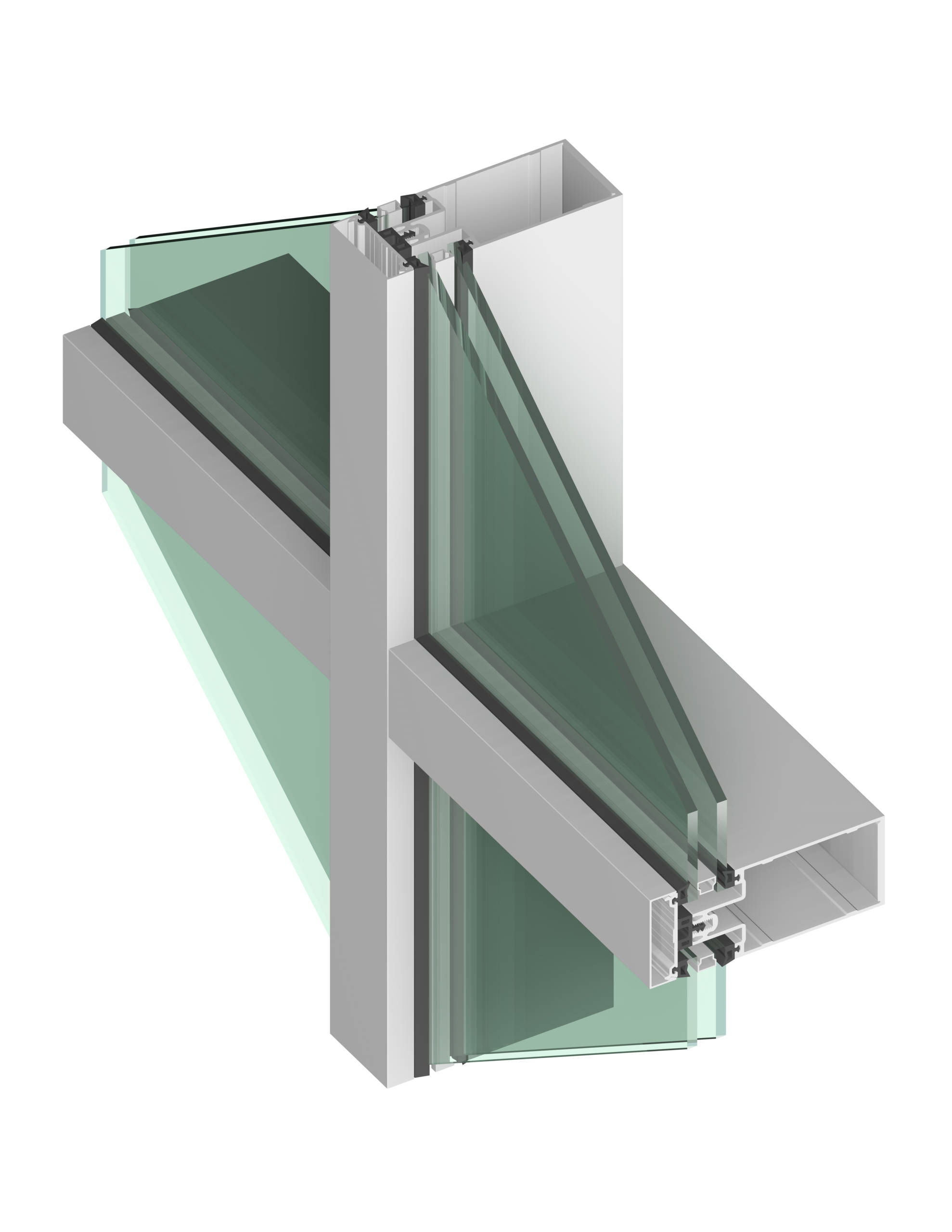 Tubelite Inc. introduces 400T Series Thermal Curtainwall, a thermally broken curtainwall product designed to meet or exceed today's stringent energy codes. Recommended for use on medium- and low-rise applications, the system is well suited for retail, office, health care and school buildings.
The new 400T Series has a 2-1/2-inch sightline, with system depths ranging from 6-1/4 to 10-1/4 inches and optional polyamide pressure plates. The system is a shear block, outside glazed, captured curtainwall that can be stick fabricated for field glazing. Its concealed fastener joinery creates a smooth, monolithic appearance. The curtainwall easily integrates with Tubelite's operable windows, Therml=Block® entrances, and MaxBlock® sunshades.
"Customers have depended on our 400 Series curtainwall since the 1980s. The new 400T curtainwall's expanded thermal break and thicker gasketing offers improved U-Factors and increased condensation resistance factors (CRF) for project needs that exceed Tubelite's current 400CW thermal barrier system when using the same size and type of insulated glass," explains Tubelite's product manager, Tom Mifflin. "Building on Tubelite's dependable products, our clients have even more choices when selecting and specifying for thermal performance."
Tubelite's 400T Thermal Curtainwall with optional polyamide pressure plate has been tested and modeled per the National Fenestration Council (NFRC) procedure, achieving a U-Factor of 0.32 for thermal transmittance. This configuration was also tested per the American Architectural Manufacturers Association (AAMA) 1503-09 standard, achieving a frame CRFf of 79.
Within the 400T Series, the glass is positioned to the system's exterior for enhanced resistance to rainwater. The 1/2-inch bite securely grips insulated glass or panels of 1-inch thickness. Infill thicknesses from 1/8 inch to 1-5/16 inches also can be accommodated. Verticals can be steel-reinforced for high performance against strong windloads. An improved horizontal member allows for expansion/contraction clearances to minimize splice requirements.
Seven anodized finishes and 20 standard paint colors are available. Upon request, blended and custom colors, and two-color, split finish options may be specified. Durable finishes also reduce buildings' maintenance costs and enhance long lifecycles.
Tubelite's products are manufactured to meet the aesthetic, performance and environmental goals of each project, as well as for easy fabrication and installation. Demonstrating its dependability and partnership, Tubelite's Damage Free Guaranteed ensures orders are delivered undamaged, complete and on time.
About Tubelite Inc.
For more than 70 years, glazing contractors have counted on Tubelite's dependable service, fabrication and distribution of architectural aluminum products. Part of Apogee Enterprises, Inc., the company is an industry leader in eco-efficient storefront, curtainwall and entrance systems, and recognized for its fast, reliable and consistent delivery.
Tubelite's corporate office, fabrication, warehouse and shipping operations are located in Walker, Michigan. Its Dallas location provides additional fabrication, warehouse and shipping operations and its facility in Reed City, Michigan, houses the company's aluminum extrusion operation. The company also has offices in Rock Hill, South Carolina, and Warwick, Rhode Island.
Tubelite and its staff are members of the American Architectural Manufacturers Association (AAMA), the American Institute of Architects (AIA), the Construction Specifications Institute (CSI), the Glass Association of North America (GANA), the National Fenestration Rating Council (NFRC), the Society of Military Engineers (SAME) and the U.S. Green Building Council (USGBC).
To learn more about Tubelite's personnel, products and programs, please visit tubeliteusa.com. For information on employment opportunities at Tubelite, please click on "Careers" at the top of the home page.
###