by Tom Minnon, LEED® AP, CDT, Eastern Region Sales Manager for Tubelite Inc.
Know the Code
When specifying a paint code for your project, always double check for accuracy. The specific code is what drives the ordering process and the achieved color. The color name is only a guideline; many times manufacturers and applicators will have the same paint name for different paint types and colors. Relying on a color name alone can be a risk. As an example, one manufacturer can have 50 paint codes all named "Hartford Green."
Accuracy of the paint code is vital. Paint manufacturer and many applicators have their own coding system for assigning paint codes to colors. Each letter and number within the product formula has a specific meaning related to the color and tint, gloss, primer, topcoat, or the use of mica and metallics. Due to the immeasurable number of different paint codes, one incorrect number or letter within a code can completely change the paint formulation.
Architects' specifications for fluoropolymer finishes often read as: "PVDF-Based Coating: AAMA 2605, fluoropolymer finish containing minimum 70 percent PVDF resins, color to be selected from manufacturer's full color range."
This generic specification makes it very difficult for the aluminum manufacturer and glazing contractor to determine what price level they should include in their quote. Most aluminum manufacturers have a list of stock paint colors that have a lower price point than other colors. Does "manufacturer's full color range" include all possible colors available from the paint manufacturer? Will it be a two-coat or XL three-coat finish? Whenever possible, the architect should clearly state what color will be required on the project.
AAMA Specifications
AAMA 2603 is typically an interior specification. Baked enamel (acrylic/polyester) paints should meet AAMA 2603. The baked enamel coatings are harder than the fluoropolymer PVDF coatings and often are used for interior application where color retention is not required. These paints are less expensive, but have poor resistance to color fading and chalking.
AAMA 2604 is an "intermediate" specification. A paint meeting this specification would be a 50% fluoropolymer. An application for this paint would be storefront, doors or other high-traffic areas. This finish will provide good color and gloss retention. It also will provide good hardness and abrasion resistance.
AAMA 2605 is the high-performance exterior specification. A paint meeting this specification would be a 70% fluoropolymer. These finishes exhibit outstanding resistance to humidity, color change, chalk, gloss loss and chemicals. An application for this finish would include monumental architectural projects.
Field Repair
Whether your building's finish has faded and discolored, or your new building has been damaged during construction, it can be corrected on-site with a knowledgeable team and the proper product.
Storefronts and other high-traffic areas may need to be repainted periodically. As good as it is, painted aluminum is not completely maintenance-free, nor does it last forever. Painted aluminum can chip and scratch on high-wear areas such as sliding doors and entrance ways.
For more than 40 years, PVDF-based finishes have held the position as the world's premiere exterior metal finish. PVDF-based Air Dry System (ADS) offers the same superior weathering properties as factory-appliced PVDF, and can be field-applied on almost any building material, restoring surfaces to last and look like new.
PVDF-based ADS coatings are designed for repairing, restoring and/or repainting the metal on buildings that have a factory-applied PVDF-based coating. These coatings only can be applied by licensed fluoropolymer applicators. PVDF-based ADS coatings are intended for use as a two-coat system. PVDF-based ADS provides very high resistance to fading, chalking, UV degradation and chemical corrosion. PVDF-based ADS restores structures to their original luster, while meeting weathering requirements of AAMA 2605, the most stringent specification for architectural coatings.
**
Resources:
* Arkema Kynar
* Linetec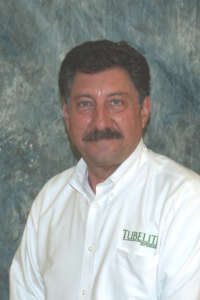 * Tubelite Inc.
* Solvay Hylar
**
Tom Minnon, LEED® AP, CDT, is the eastern region sales manager for Tubelite Inc., serving clients from Maine to Georgia. With nearly four decades of industry experience and many professional accreditations, he regularly provides educational and consultative support to architects, buildings owners and glazing contractors regarding storefront, curtainwall, entrances and daylight control systems.
###