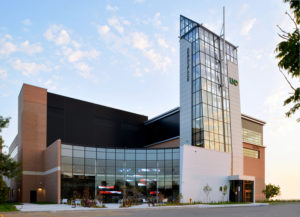 The University of North Dakota's (UND) Robin Hall opened last year as the tallest building in Grand Forks and the headquarters for the unmanned aircraft systems programs at UND's nationally acclaimed John D. Odegard School of Aerospace Sciences. The new building's sleek, light-filled design features curtainwall and storefront systems from Tubelite Inc. to meet the structure's modern aesthetic, sustainability goals and performance requirements.
The $22 million, 72,000-square-foot aerospace research facility was designed by ICON Architectural Group. Olaf Anderson Construction served as the general contractor. After more than a year of construction, the first students arrived in autumn for the 2016-17 academic year.
As the area's tallest building, Robin Hall's base rises five stories and ascends into a 127-foot glass and metal tower at the structure's entrance. Brin Contract Glazing worked closely with ICON and Tubelite to accomplish this signature element. Brin's senior project manager, Elias Tovar, says, "It's the first thing you see when you arrive. It's a statement piece and it looks fantastic."
ICON's Matti Roinila, AIA, agrees, "Robin Hall not only represents the innovative and aspirational nature of the University of North Dakota Aerospace School, but also serves as a beacon for the entire University of North Dakota campus."
According to Roinila, the new building accommodates the exponential growth of unmanned aerial systems in the region. "We carried this vision into the design with such areas as the executive board room featuring floor-to-ceiling curtainwall and the ultra-clear glass tower observation floor. These two areas invoke the sense of expanse and are where some of the most remarkable views in all of the Red River Valley can be witnessed."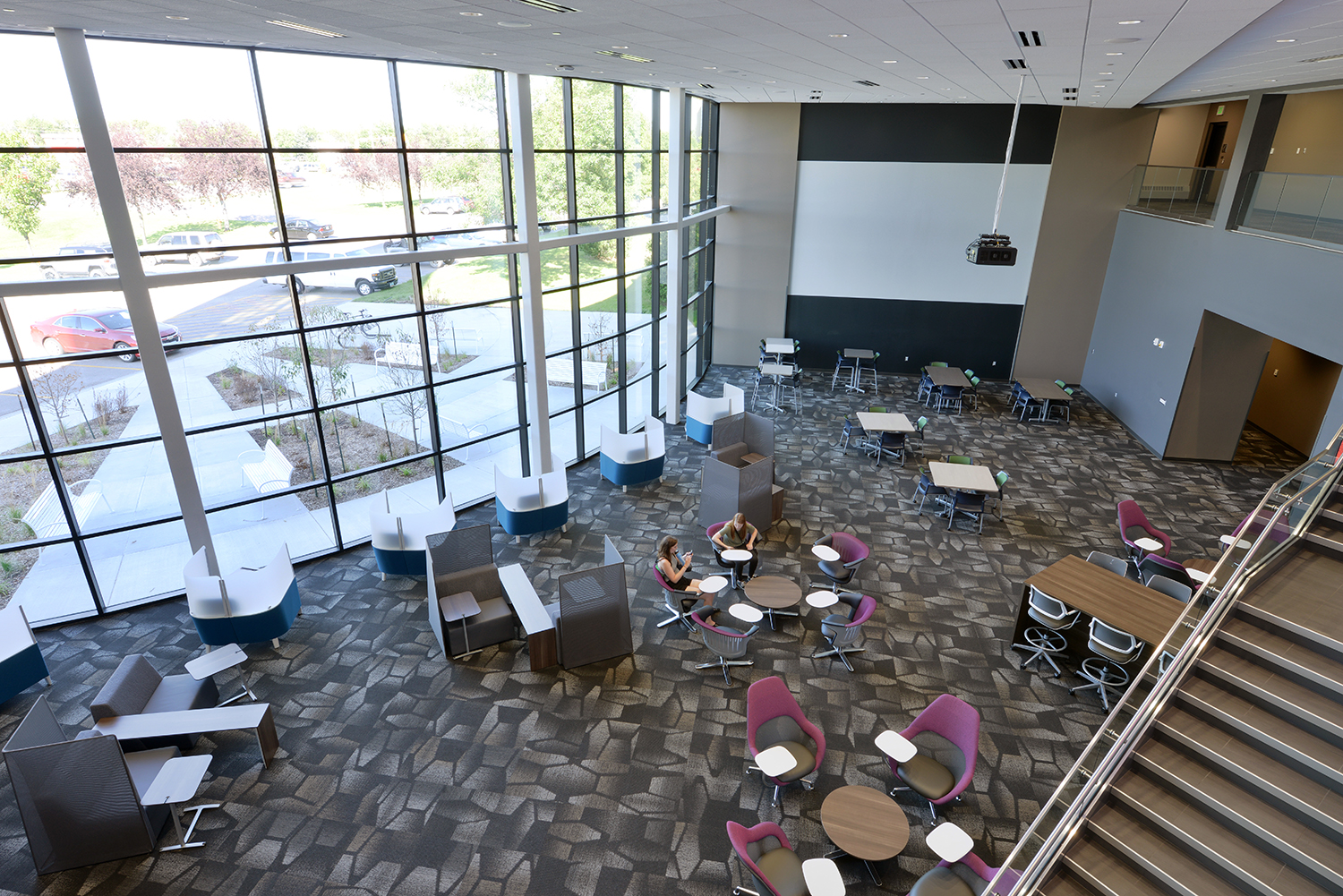 Capturing these views, Brin enclosed the building's tower on all sides using Tubelite 400 Series screw spline curtainwall. The aluminum-framed system was fabricated using 11,261 square feet of insulated glass with low-e coatings. "The tower's glass is crystal clear. When backlit at night, it radiates across the campus. During the day, the interior is brightly lit with natural light," describes Tovar.
Roinila also emphasizes, "Managing solar heat gain was a key performance requirement due to the design intent for the 127-foot glass tower. The Tubelite system provided this performance requirement, while allowing ultra-clear glazing to be utilized."
Screw-applied pressure bars secure the glass and a cover plate conceals the fasteners. Enhancing the tower's structural performance, 17,500 pounds of steel reinforce the aluminum framing members. For added durability, Linetec applied a black anodize finish.
Including the curtainwall on the glass tower, the building's façade showcases four Tubelite systems installed by Brin: Nearly 10,000 square feet of Tubelite's 400 Series screw spline shear block curtainwall for the tower and lower levels; 1,400 square feet of 200 Series shear block curtainwall on the northwest corner; 13,000 square feet of 14000 I/O Series storefront for the punched openings; and 360 square feet of E4500 Series interior framing for the vestibule. All the aluminum framing was finished by Linetec in matching black anodize.
"We needed to be very careful with rough openings as we didn't have the luxury of being able to field verify," comments Construction Manager Lyn Narum at Olaf Anderson. "Both our framing crew and Brin did an outstanding job of making sure items were built per the shop drawings."
Some unusually shaped, trapezoidal units were necessary to achieve the precise appearance of the tower and the lower concave, segmented wall. Brin pre-glazed all of these units in its facility and then shipped them to the job site for installation. Tovar explains, "It drastically reduced the time to install that portion of the building. Given the northern climate, this was key to sheltering other work from the elements during construction."
"The project was placed under an aggressive 14-month schedule," notes Roinila. "Due to this schedule, a majority of the tower steel and glass installation occurred during winter months. Strong winds and protecting the building from the elements were constant hurdles contractors successfully handled."
Tovar continues, "One notable challenge was the scale and height of the work to cap off the 12-½ story tower with a metal-framed Wasco skylight, which was designed with a steeply sloped pitch. The surrounding areas of the tower lacked any outside catwalk framing to work from, so to make it accessible for manpower, equipment and material staging, our team brainstormed and devised a unique solution."
An engineered floor truss deck system at the skylight base provided a staging area for materials and access to the anchor locations. From this vantage point, Brin's glaziers used an overhead crane to set and secure the aluminum rafter and purlin sections atop the curtainwall.
"Once on site, they completed each item quickly and were really good to work with. They definitely take a lot of pride in their craftsmanship," praised Olaf Anderson's Narum.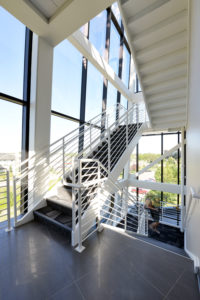 Roinila echoes this sentiment: "Brin Contract Glazing was efficient at installing the Tubelite system in unfavorable conditions and allowing the overall project to be completed on schedule. The final product surpassed the client's needs and provides an aesthetically unique statement for the University of North Dakota."
Inside Robin Hall, four floors house a large auditorium, student study space, administration offices, classrooms, collaborative learning spaces and a hangar space for flight testing. The building's basement also includes an open research space with laboratories and simulators. A skywalk directly connects the new facility to UND Aerospace's Ina Mae Rude and Ryan Hall.
UND's School of Aerospace Sciences has seen tremendous growth. The university was the first to offer a bachelor's degree in unmanned aircraft systems, which has been a major focus since 2008.
In an earlier interview with KVRR-TV, U.S. Senator John Hoeven of North Dakota explained the benefit of UND's program to Grand Forks and state of North Dakota: "(It) means we can fly unmanned aircraft without a chase plane beyond line of sight. Now that gives companies and NASA a real reason to come here because they can now do testing here that they can't do in other places."
Private donations and $1.5 million in matches from the North Dakota State Board of Higher Education Challenge Fund largely financed Robin Hall. The building's name honors the largest contributors to the project, Mary E. Bazar and Si Robin.
**
University of North Dakota, John D. Odegard School of Aerospace Sciences, Robin Hall, 4275 University Ave., Grand Forks, ND 58202
* Owner: University of North Dakota Aerospace Foundation; Grand Forks, North Dakota; http://aero.und.edu
* Architect: ICON Architectural Group; Grand Forks, North Dakota; http://www.iconarchitects.com
* General contractor: Olaf Anderson Construction; Fargo, North Dakota; http://www.olafanderson.com
* Glazing contractor: Brin Contract Glazing; Waite Park, Minnesota; http://www.bringlass.com
* Glazing systems – manufacturer: Tubelite Inc.; Walker, Michigan; http://tubeliteusa.com
* Glazing systems – glass manufacturer: Oldcastle BuildingEnvelope®; PPG Solarban® 60 on Starphire® and Solarban 60 on Optigray®; Albertville, Minnesota
* Glazing systems – finishing provider: Linetec; Wausau, Wisconsin; http://www.linetec.com
* Photos: Robb Siverson
* Video: https://vimeo.com/168805633
About Tubelite Inc.
Established in 1945, Tubelite celebrates 70 years of dependable service, fabrication and distribution of architectural aluminum products. Part of Apogee Enterprises, Inc., the company is an industry leader in eco-efficient storefront, curtainwall and entrance systems, and recognized for its fast, reliable and consistent delivery. Tubelite's corporate office, fabrication, warehouse and shipping operations are located in Walker, Michigan. Its Dallas location provides additional fabrication, warehouse and shipping operations and its facility in Reed City, Michigan, houses the company's aluminum extrusion operation.
Tubelite and its staff are members of the American Architectural Manufacturers Association (AAMA), the American Institute of Architects (AIA), the Construction Specifications Institute (CSI), the Glass Association of North America (GANA), the National Fenestration Rating Council (NFRC), the Society of Military Engineers (SAME) and the U.S. Green Building Council (USGBC).
###